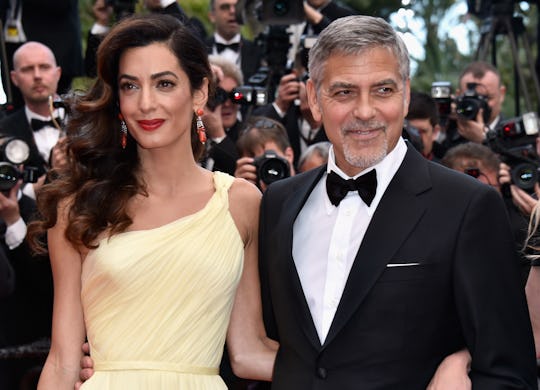 Pascal Le Segretain/Getty Images Entertainment/Getty Images
Twitter Loses It Over Amal Clooney's Pregnancy
Twins are totally in this year. Another pair of stars has two babies on the way, and fans are (understandably) freaking out over George and Amal Clooney's news. Reactions to Amal Clooney's pregnancy so far show that the internet can't wait for two new, high-powered, world-bettering humans to grace the planet. (Notably in tandem with Beyoncé and Jay Z's twins.)
The new baby news broke on Thursday's episode of The Talk, when host Julie Chen shared that George had let her in on the secret just this January. For both Amal and George, this will be their first child — well, children. What's more, the 39-year-old mother-to-be has a due date in June, Us Weekly reported, so she's well on her way.
Amal married 55-year-old father-to-be George Clooney in September of 2014, marking her first marriage and George's second. That following May, Charlie Rose had the courage to ask George if any kids were in the works — a question that was on everyone's mind, given George's age and new relationship status. On an episode of CBS This Morning, George said that starting a family "hasn't been high on [his] list," but it's pretty apparent that this is now old news.
The two are bound to be incredible parents and impressive role models, given their current commitments to the greater good. In her continuing career as a lawyer, Amal has represented high-profile clients, defending human rights on a global scale. In addition to his work as an actor, George has been devoted to humanitarian causes in a variety of setting. In partnering up, Amal and George are pretty much an unbeatable team.
Revel in all of the unbridled enthusiasm below:
Sorry to make it about Beyoncé, but how could you not? Two sets of twins means four new, earth-saving babies are headed our way! In a year that has been especially difficult thus far, it's nice to have something so sweet and pure to look forward to later on.
Seeing that they just bought a luxury, midtown condo, it's likely that all four Clooneys will live in New York, though, with both parents' careers, international travel is inevitable. Currently, they split their time between homes in Los Angeles, Italy, and Spain.
Romper has reached out to the couple's reps for comment on the pregnancy news and is awaiting a response. A source close to the couple told People that Amal "has let everyone in both families know quietly," sharing that "they're all very happy." Surely, there's plenty to be happy about, and the tweets above definitely prove it.