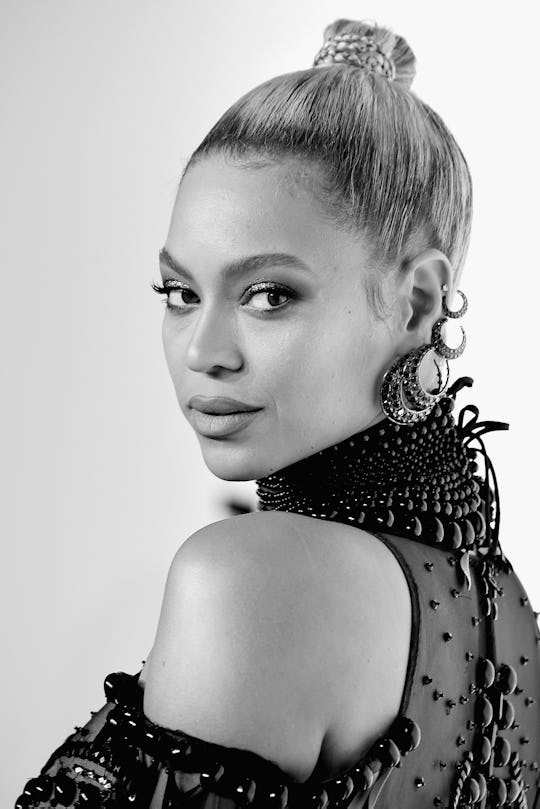 Theo Wargo/Getty Images Entertainment/Getty Images
Reactions to Beyonce's CMA Performance Were Praising The Queen
Beyoncé Knowles can do anything. She can act, sing, dance and even cross genre lines. While Beyoncé's music tends to stick to the pop and R&B music genres, Beyonce has even dipped her toe into the world of country music on her latest album, Lemonade. So on Wednesday night, the singer's outstanding Country Music Awards performance came as no surprise to fans who know and love her best — and the myriad reactions to Beyoncé's CMA performance on Twitter proved that they were ready to follow her just about anywhere.
Beyoncé is no stranger to surprises. In April, Beyoncé surprised fans with a brand new album, the aforementioned and highly-acclaimed Lemonade, and a visual accompaniment, which aired on HBO. Then, in August, Beyoncé announced at the very last minute that she would perform at the MTV Video Music Awards as well, doubling her fans' 2016 excitement. Now it seems Beyoncé is following suit with her surprise performance at the CMAs.
This afternoon, hours before Beyoncé was slated to take the stage, it was announced that she would be performing later in the evening, and the internet rightfully lost its collective mind. "Beyonce is going to light up that stage with "Daddy Lessons" & dare someone to tell her it isn't country enough," one fan speculated. "No one will."
Across the rest of Twitter on Wednesday night, the sentiment was equally as enthusiastic:
But really, Beyoncé's appearance at the CMA's wasn't too surprising. Beyoncé's song "Daddy Lessons" off of Lemonade has an evident country music influence — it tells a story, has a catchy chorus, and incorporates musical instruments heard in popular country music. In fact, Billboard called "Daddy Lessons" "the biggest crossover news in country music" in a year and noted that many of country music's biggest stars were applauding Beyoncé for her crossover hit. "There is just something intangible about it that that feels like a country song," singer Dierks Bently said of the song. "It's not just choruses that are catchy and verses that could be intermixed anywhere as some pop songs are. It's a real story that she tells about what's going on in her life growing up."
Ultimately, Beyoncé's performance of "Daddy Lessons" with the Dixie Chicks could not have gone over any better — not only with fans but by audience members, whose reactions to Beyoncé's performance showed that she wasn't out of place.
Beyoncé belonged on that CMAs stage Wednesday night — and with her performance, she proved that she really can do anything.