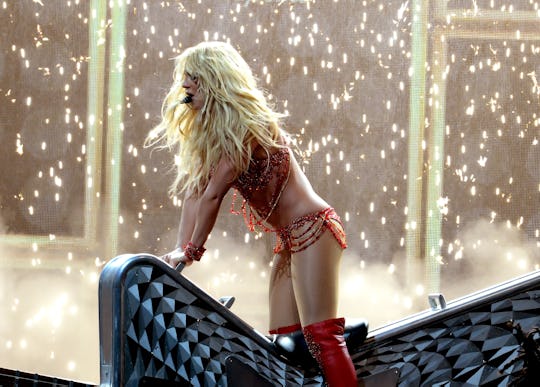 Kevin Winter/Getty
Reactions To Britney Spears' Billboard Music Awards Performance Were All Over The Place
Britney Spears will forever be the princess of pop, and longtime fans were undeniably looking forward to her seven-minute song medley at the Billboard Music Awards. As she performed, though, reactions to Britney Spears' Billboard Music Awards performance rolled in on social media and the reviews were decidedly... mixed.
Spears has always been an accomplished singer and dancer, which means expectations were pretty high for her performance. First of all, fans were probably expecting the same dance moves seen in the music video for Baby One More Time, which came out 16 years ago. Second of all, they likely expected those wicked dance moves without any prerecorded music (which, hey, would be tough). Third, every single fan probably had one hit that they wanted Spears to sing, but she had only seven minutes to cover all of her favorites.
As a result, some fans loved the medley and the opportunity to take a stroll down nostalgia lane, while others were less than impressed by Spears' song selection and performance.
There were those who were ecstatic.
And those who were less impressed.
Whether you loved Spears' Billboard Music Awards performance, you have to admit that she still commands a surprising amount of presence for a pop star whose debut album came out in 2000. Personally, I would have loved to hear some "...Baby One More Time" in that little medley — but as a millennial who had multiple, physical Spears CDs in my music collection, I was happy just to see her performing onscreen.
That said, if Spears reinstated some fan favorites in her repertoire, we would all definitely be clamoring for her to expand her Vegas show to a full-on world tour. At least, I know I would.