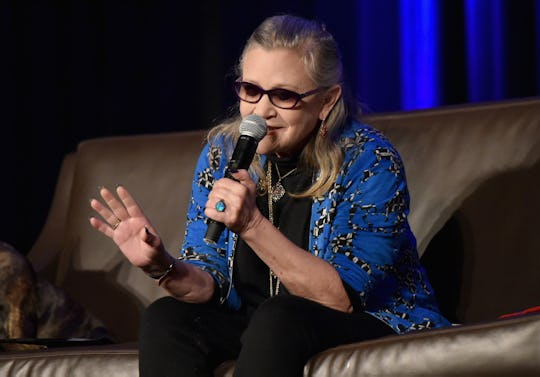 Daniel Boczarski/Getty Images Entertainment/Getty Images
Reactions To Carrie Fisher's Death Show Her Impact
The world and a galaxy far, far lost an icon today, as Carrie Fisher died early in the morning of Dec. 27, according to People. The actress, who made a name for herself playing Princess Leia in the Star Wars franchise, left behind a legacy that will not soon be forgotten. In fact, the reactions to Carrie Fisher's death prove that she will live on forever.
Fans of the actress, whose career spanned more than 40 years, never though this day would come so soon. But after Fisher suffered a heart attack on a flight to from London to California, according to BBC, fans immediately began sending prayers and positive thoughts to the actress and her family. Fans, friends, and family members saw a glimpse of hope over the holiday weekend, as USA Today reported that Fisher was stable, but being treated in the intensive care unit. What many hoped was a precaution turned out to be a sign of worse things to come.
People was one of the first publications to break the news after obtaining a statement from Simon Halls, the Fisher family spokesperson. In his statement, which was read of behalf of Fisher's daughter, Billie Lourd, he said:
It is with a very deep sadness that Billie Lourd confirms that her beloved mother Carrie Fisher passed away at 8:55 this morning. She was loved by the world and she will be missed profoundly. Our entire family thanks you for your thoughts and prayers.
Needless to say, the world was not ready for the heartbreaking news. As soon as word of Fisher's passing was released, fans took to the internet to share their condolences, memories, and sad sentiments with fellow fans.
According to IMBD, Fisher, daughter of Hollywood legend Debbie Reynolds, first began acting in 1969 . Though it was a small role in her mother's TV movie, it was enough to inspire Fisher to enroll in the Central School of Speech and Drama in London in 1973, according to People. Four years later, Fisher got her big break portraying the badass and beautiful Princess Leia in Star Wars: A New Hope. The series, as many know, would later spawn two follow up films and make the actress a household name. And though she appeared in several projects since donning her iconic white dress and Cinnabon hairdo, the most recent of which included Amazon's Catastrophe and Fox' Family Guy, fans will always remember her as one of the greatest leaders of the Rebel Alliance. In fact, this role played a huge role in some of her tributes.
Of course, many of the online memorials made a point to note that Fisher's death only adds to awfulness that was 2016.
It is clear from the social media posts that Fisher had, and will continue to have, a strong impact on the world. And not just in Hollywood. Fisher was a strong advocate for mental health awareness, as noted on The Huffington Post, and spent much of her career fighting against the stigma. In an interview with ABC News, Fisher said of mental illness:
"I have a chemical imbalance that, in its most extreme state, will lead me to a mental hospital ... I am mentally ill. I can say that. I am not ashamed of that. I survived that, I'm still surviving it, but bring it on."
Fisher faced every challenge life threw at her — from mental illness, to sexism, to addiction — with grace and a badass spirit. Though she is gone, her fight will live on in those whom she has impacted.