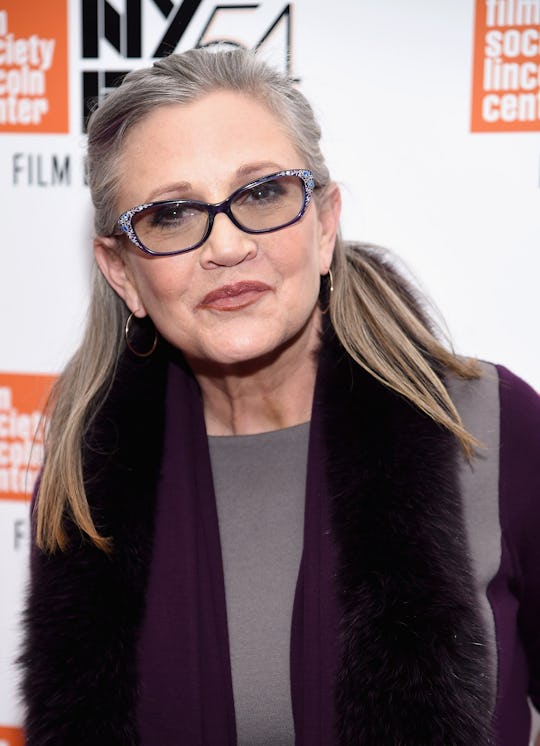 Dimitrios Kambouris/Getty Images Entertainment/Getty Images
Fans' Reactions To Carrie Fisher's Heart Attack
According to the BBC, Star Wars actress Carrie Fisher was in critical condition after she suffered a heart attack on a flight from London to Los Angeles. Passengers attempted to resuscitate her onboard, and she was taken immediately to a hospital when the flight landed in Los Angeles. Reactions to Carrie Fisher's heart attack prove that fans have a fierce, loyal love for the personable actress.
Fisher, 60, was in the midst of promoting her eighth and latest book, The Princess Diarist. When United Airlines flight 935 touched down in Los Angeles just after noon, medical personnel met the airplane and rushed her to the hospital, according to The Los Angeles Times. Passengers on the flight tweeted about the incident soon after, with actress Anna Akana tweeting, "Don't know how else to process this but Carrie Fisher stopped breathing on the flight home. Hope she's gonna be OK. ... Feel weird even tweeting about it but I JUST finished her book and was fangirling out over seeing her dog Gary in person. Gah."
Fisher first attracted a huge fan base as the actress who played Princess Leia in the Star Wars franchise, but she's remained beloved for her refreshing take on Hollywood, her openness about her mental health, and her hilarious frankness both on- and off-camera. And judging by the reaction of her fans to the news of her heart attack, their love for Fisher is just as strong as ever:
Fisher's heart attack took place when there were only around 15 minutes left before the plane landed, according to E! News. In a tweet, Akana said Fisher was not breathing for approximately 10 minutes. She also thanked passengers in the medical field who lent a hand, and reported that CPR was administered all the way up until the plane landed.
According to the Los Angeles Fire Department, it responded to an incident at the airport at 12:11. "LAFD Firefighter Paramedics were standing by for the plane's arrival, provided Advanced Life Support and aggressively treated and transported the patient to a local hospital," the fire department wrote in a statement.
According to TMZ, Fisher is reportedly at the UCLA Medical Center and currently on a ventilator. There have been no further updates as to her condition. With fans sending plenty of good thoughts, prayers, and well wishes her way, here's to hoping everyone's favorite sci-fi princess, mental health warrior, and feminist comedian recovers swiftly.