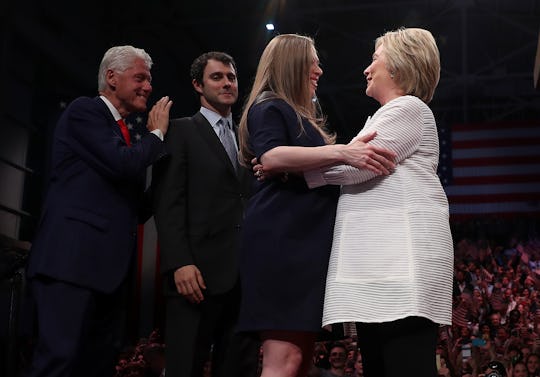 Justin Sullivan/Getty Images News/Getty Images
Reactions To Chelsea Clinton's Baby News Are A Mix Of Congrats & Critiques
Welcome to the world Aidan Clinton Mezvinsky! On Saturday morning, Chelsea Clinton announced that she had given birth to her second child and first son. Though she was a little cryptic as to when the baby was born, she was happy to share the news of his arrival on Twitter. Of course, with that tweet comes even more tweets from fans and foes alike. And the mixed reactions to Chelsea Clinton's baby news show that no one associated with Hilary Clinton is off limits — even a newborn.
Chelsea shared the news of her sons arrival early Saturday morning with a tweet saying, "Marc and I are overwhelmed with gratitude and love as we celebrate the birth of our son, Aidan Clinton Mezvinsky." Short, sweet, and just enough info to get people going. Shortly after, Hillary Clinton's campaign retweeted her daughter's birth announcement.
If the reactions to Chelsea's past pregnancy and birth announcements teach us anything, it's that people always have something to say. And it's not nice, they'll say it anyway on social media. Given the current vibe of the this election season, everyone should expect a lot of love and a lot of snark about little Aidan Clinton.
Some people (obviously those who support the current presumptive nominee of the Democratic party ) were excited to hear the Clinton-Mezvinsky family's big news.
Others, however, used the joyous news to attack Hilary.
Still others are starting to see a trend.
Whether you love Hillary Clinton or hate her, new babies are always good news. Congrats, Clinton family.