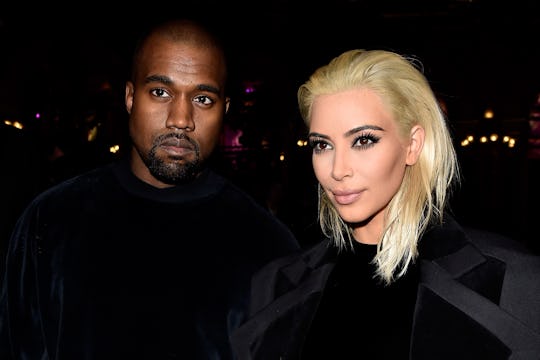 Pascal Le Segretain/Getty Images Entertainment/Getty Images
Reactions To Chicago, Kim Kardashian's Daughter's Name, Show Fans Are Not Happy About It
It's finally here. After an excruciating four days of not knowing what to call the newest addition to the Kardashian-West family, the news has been revealed at last, and the reactions to Chicago, Kim Kardashian's daughter's name, are unsurprisingly not very supportive. The anonymous people of the internet are always ready to criticize others without repercussion, and the top three targets are generally celebrities, women, and parenting choices, meaning that when a famous woman publicly shares a parenting choice, whoo boy, she'd better get ready for an epic dragging.
But if we're being honest here, today's celebs are known for making rather unique name choices (Apple Martin is 13 years old and we're still talking about her name). And the Kardashians, in particular, have given their offspring some pretty creative monikers. Chicago's the third child for Kim and Kanye, after 4-year-old North and 2-year-old Saint, so it's not like they haven't been through this twice already. They could have named her Emma if they were truly bothered by mean tweets, or they could have just refused to share her name at all. Clearly, they DGAF what other people think of their kid's name, which is great. They're probably not even reading the reactions, which is actually a shame, because some are actually pretty funny, to be honest.
More than a few people are extremely disappointed that the family didn't go with Wild West. Are they for real, or are they kidding? Tough to say. But the over-the-top drama with which one Twitter user declared Chicago's name to be "tragic" makes me wonder if they're actually draped across a fainting couch right now.
This is hard to argue with. She knows who she married, and let's face it, Kanye is synonymous with bucking societal norms, then loudly congratulating himself for doing so. Also, he grew up in Chicago, while she grew up in Calabasas, so it's pretty likely that the name was his idea.
For real, somebody tell me whether all these people think that Wild West is actually a cool name, or if they're being ironic, because I really can't tell anymore. Although I must say, using someone's own GIF against them is never not funny.
Right, so I can see this becoming an issue if people are still calling in to radio stations to request songs in fifteen years or so ("What's your name and where are you calling from?) but I'm pretty confident that's not going to happen. We can stream any song in the world with the tap of a screen now. She'll be OK.
This tweet is a work of art and I want to give its author a hug.
You know what? It is actually growing on me. Naming kids after places is nothing new; we've all heard of people named Paris, Brooklyn, Austin, and Israel. At least Kanye didn't grow up in Belchertown, Massachusetts, Toad Suck, Arkansas or... Calabasas.
OK, that's hurtful on, like, three different levels, but accurate.
Like the name or hate it, but it encouraged a pro football team's welcome, so there's that. Did your hometown team tweet about your baby name? No? Didn't think so.
As a person who has to buy "Jenny" keychains and white-out the Y, I'm with her.
You know what, though? I have a feeling that if Kim and Kanye had named their daughter Fred, he wouldn't have liked that, either.
So true. I submit that all people tweeting about Chicago's name should preface their comment with their own child's name. If it rhymes with Aiden, but isn't Aiden, you don't get a vote, girl.
Precisely! How exactly is this child going to suffer? Is her cousin Dream going to pick on her for her weird name? Is she going to have trouble getting a job at one of the 20 businesses her family owns? Is she going to get made fun of on the internet? Oh hey, she already is, and she would have been no matter what. At least she'll grow up with nice clothes, right?
Check out Romper's new video series, Romper's Doula Diaries:
Watch full episodes of Romper's Doula Diaries on Facebook Watch.