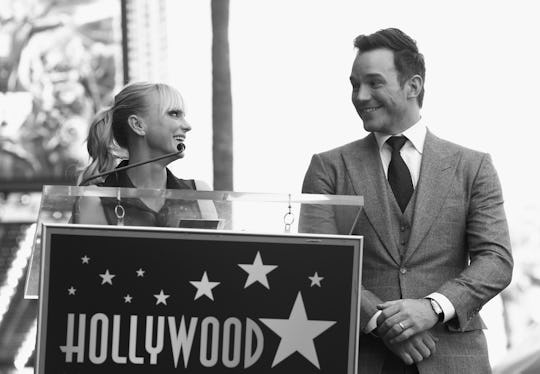 Jesse Grant/Getty Images Entertainment/Getty Images
Fans Are Absolutely Losing It Over Chris Pratt & Anna Faris' Split
There are certain Hollywood couples that fans feel personally invested in. Nick Offerman and Megan Mullally, John Krasinski and Emily Blunt, (the couple f.k.a.) Amy Poehler and Will Arnet, and Chris Pratt and Anna Faris. Late Sunday night, Chris Pratt and Anna Faris announced that they were "legally separating" after eight years of marriage, and naturally, fans are heartbroken and taking the news as if it is their own parents. Truly, reactions to Chris Pratt and Anna Faris separating prove that fans really rooted for this couple.
In a statement posted to his Facebook account, Pratt shared the news in a heartfelt and honest manner. The statement reads as follows:
Anna and I are sad to announce we are legally separating. We tried hard for a long time, and we're really disappointed. Our son has two parents who love him very much and for his sake we want to keep this situation as private as possible moving forward. We still have love for each other, will always cherish our time together and continue to have the deepest respect for one another.
Chris Pratt and Anna Faris
Despite fans wanting the best for each of the actors, it is really sad to hear a couple, that has been together since 2007, will not make it. The two were always beacons in the Hollywood frills-and-thrills spotlight, and it wasn't hard to relate to them as a Real Couple. Unfortunately, even real couples can't always make something work best for them (and their family).
The two first met in 2007 on the set of Take Me Home Tonight. In December of last year, Faris opened up on her podcast, Unqualified, about the many rumors of issues in her marriage. People reported she said, "I take pride in how great my relationship is with Chris, but having said that, of course in this crazy world where he's off doing movies and I'm in L.A. raising our child, of course I'm going to feel vulnerable, like any normal human would."
Most of all, fans are ready to put these other Hollywood couples in a bubble to protect them for all of time.