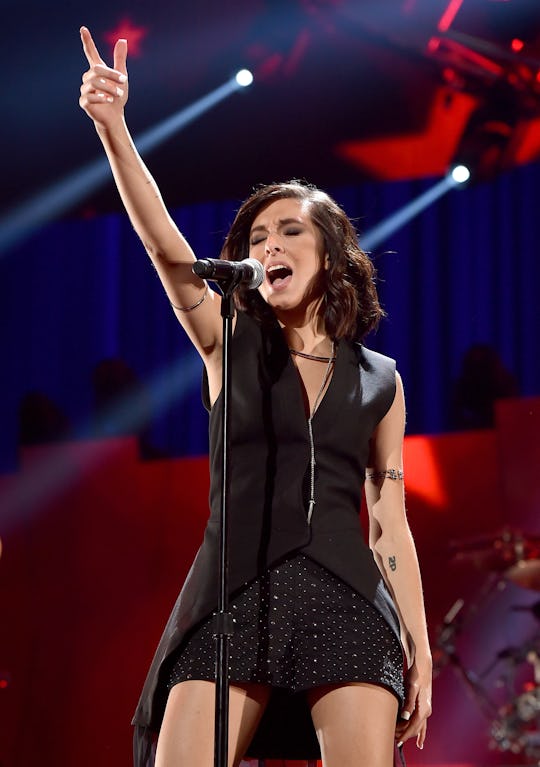 Kevin Winter/Getty Images Entertainment/Getty Images
Reactions to Christina Grimmie's Death Show How Many People Adored Her
The tragic and sudden death of Christina Grimmie has rocked the music world since former The Voice singer was shot at a concert on Friday night. Reactions to Christina Grimmie's death have been flooding social media and show just how many people she touched, fellow artists she wow-ed, and that she was more than just a set of pipes (though her vocal range was astounding, all around). Friends, family, and fans are remembering her positivity and kindness. Which makes the untimely death of the 22 year old woman even harder to accept.
After a concert in Orlando, Florida on Friday where Grimmie was performing with Before You Exit, a man approached the pop star while she was signing autographs and shot her. The suspect was tackled to the ground by Christina's brother and shot himself in the back and forth. It's almost incomprehensible.
Just after her management team announced that Grimmie had died of complications from the wound in the hospital, The Voice tweeted that they were "heartbroken" and sent thoughts to her family. In a subsequent tweet they added, "There are no words. We lost a beautiful soul with an amazing voice." Since her death, they have blacked out their Twitter profile and background pictures.
Adam Levine, who was her coach on The Voice and worked closely with the star during her stint on the show, posted an image of them on Instagram before she was pronounced dead. He captioned the photo, writing, "I'm sad, shocked and confused. We love you so much Grimmie. We are all praying hard that you can pull through this...this just isn't fair."
Other stars have reacted, too. Nick Jonas captioned an Instagram photo "RIP Christina," and also tweeted his love.
Fans, Too, Are Remembering The Singer
The outpouring of support from her The Voice family and some 3 million YouTube subscribers is really a testament to not just her talent, but also character. In remembering Christina, fans talk about how she touched them and helped them through tough times. Fellow YouTube stars and musicians attest to her talent and work ethic. The shooting of Christina Grimmie has affected pretty much everyone.
There's still no official motive for the shooting, but hopefully soon Grimmie's friends and family will have more information about her sudden death. Not that a reason for her death would ever make up for all the sadness from everyone who came into contact with her. But any answers at all might make mourning the young star a little easier.