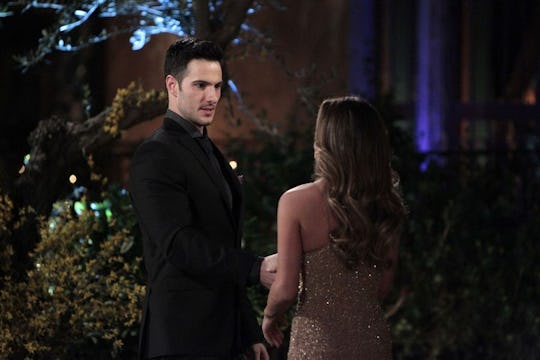 Rick Rowell/ABC
Reactions To Daniel On 'The Bachelorette,' Because Damn Daniel
Everyone loves the classic drunk guy at the party, and by that I mean: they are consistently the most entertaining guests at any The Bachelorette cocktail party. This season of The Bachelorette, which stars JoJo Fletcher looking for love, bestows its classic drunk guy title upon quite a few of the men in the premiere. But, Daniel, a 31-year-old personal trainer and "Canadian" from Vancouver, is the first to stand out within Bachelor Nation on Twitter.
Reactions to Daniel on The Bachelorette were swift, mostly because he acted like a tool and took his clothes off in the middle of the cocktail party. His sensible logic behind the stunt? "Anyone can look good in a suit. Let's see what you look like with nothing on."
Ugh. After stripping down, he didn't only terrorize the other guys, but he also crashed JoJo's one-on-one time with another guy, juuust to make sure she peeped what he looked like pantsless. Honestly, dude, this is The Bachelorette. There will be so many opportunities for you to take your shirt off.
Speaking of taking your shirt off, earlier in the night, Daniel himself said of John, who wore a kilt on the first night:
"You shouldn't try too hard like that. That would be like the same thing as if I just took off my shirt and said, 'Look at my body, I look f*cking amazing.' But I'm not gonna do that, right? Just keep it cool for the first night."
Fast forward later in the night, Daniel is stripped down to his undies. Mostly, though, Twitter is horrified that the very first thing he said to JoJo was a bad Damn Daniel joke.
And that's all before Daniel took it upon himself to explain the Damn Daniel reference he made when he came out of the limo to JoJo. It was as horrifically awkward as these tweets imply:
Needless to say, when getting so drunk during night one of The Bachelorette that you take your clothes off and jump into the pool, and that's not the most awkward of your opening antics, you are pretty much doomed for the rest of the season.