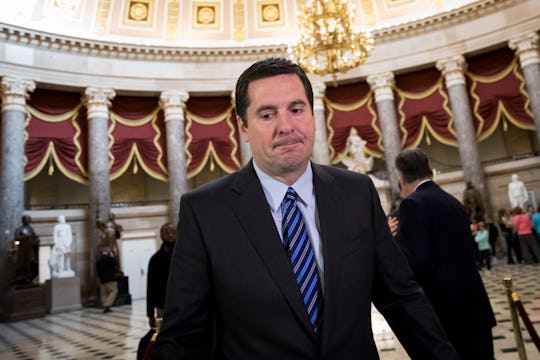 Drew Angerer/Getty Images News/Getty Images
Reactions To Devin Nunes Stepping Down Show Distrust
On Thursday, the chairman of the House Intelligence Committee announced that he would cede control of the Russia investigation, and the reactions to Devin Nunes stepping down show that some are taking it as a sign that the Trump administration is about to come crashing down. But for others, the move is not good enough. Nunes is being investigated by the House Ethics Committee after allegations that he "may have made unauthorized disclosures of classified information," according to CNBC. Romper's request for comment from Nunes' representative was not immediately returned.
The accusations were spurred by the revelation that Nunes visited the White House the day before announcing that he'd seen evidence that members of the Trump administration were incidentally included in surveillance reports covering foreign communications. Nunes and his committee were supposed to be investigating whether the Trump campaign was complicit with Russia's interference in the 2016 election, but the investigation was derailed after Trump, in a series of early morning tweets, accused President Obama of wiretapping him. Trump claims he got the story from the New York Times, but it appears to have originated from a conservative radio show before being parroted by Breitbart, and later, Fox News. Nunes has sought to prove that the claim has some sort of merit.
The Times alleged last week that White House officials had provided Nunes with the intel that prompted him to call a press conference before sharing it with Democratic members of the House Intelligence Committee. Nunes is known to be a Trump ally; he worked on the transition team and advised the campaign before the election.
Lawmakers on both sides of the aisle have called for Nunes to step down from the investigation. Now he has, but only until the House Ethics Committee completes its investigation of him. Some believe that Nunes should be removed from the House Intelligence Committee entirely.
Others are disappointed with Nunes' replacements; he said in a statement that Texas Rep. Mike Conaway will now lead the Russia investigation, and will be assisted by South Carolina Rep. Trey Gowdy and Florida Rep. Tom Rooney. All three are Republicans.
Gowdy received (and ultimately returned) donations from three anti-Hillary Clinton PACs while involved in the Benghazi investigation, and Conaway once compared Russia's campaign interference to the attendance of a Mexican soap opera star at a Clinton campaign party.
Nunes' announcement may have offered hope to some Trump critics, but things will undoubtedly get a whole lot messier before the public finally get some answers, if they ever do.