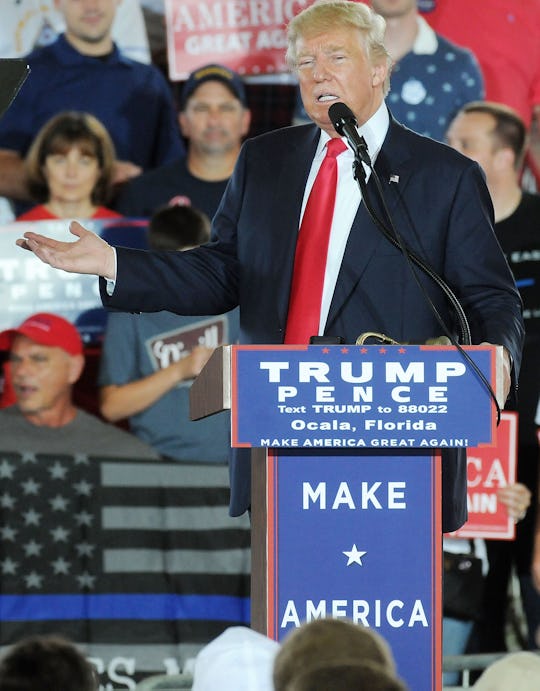 Gerardo Mora/Getty Images News/Getty Images
Reactions To Donald Trump's 10-Year-Old Comment Show Voters Have Had Enough
After an 11 year old video of Donald Trump making lewd comments was released on Friday night, many voters seemingly reached their tipping points. But on Wednesday night, things went from bad to worse. According to CBS News, another vintage video of Trump making comments about a group of young girls was released, and the moguls alleged comments aren't just inappropriate this time — they're almost sickening. Many on social media seem to agree as reactions to Donald Trump's 10-year-old comment show that many voters have simply had enough.
Trump's comments from Friday's video pale in comparison to Wednesday's. If there ever was a reason for people to become upset about the way Trump allegedly speaks about women and girls, it should be at this time. In the 1992 Entertainment Tonight Christmas feature footage, a then 46-year-old Trump asks a young girl a question and then turns to face camera. "I am going to be dating her in 10 years, can you believe it?" Trump says. According to CBS News, the video was shot in Trump Tower. The Trump campaign did not immediately return Romper's request for comment on the video.
It is understandable that voters have had enough, many of them now taking to Twitter to share their reactions to the recently unearthed video footage and vent their frustrations with Trump:
The conversation is less than a minute long but it is unsettling to listen to. Sure, Trump made those comments in a joking tone. And in 1992, he could not foresee his political future and know that footage like this would be criticized. But even though Trump had the reputation of being a playboy billionaire and might have found the joke funny at the time, it's not garnering the same response 24 years later. It is not the kind of joke that goes over well with most people, as Trump's team is quickly discovering. Instead, it comes off as out of touch and crude, as so many social media users have argued.
All of Trump's comments toward women — whether from 24 years ago or 11 years ago — should be taken seriously. Yes, people do change. Yet, videos like these continue to be released in the weeks leading up to the election; Comments made about a young girl becoming a future wife are not an example of "locker room talk" and cannot be brushed off as such — people are beginning to wonder what else is hiding in the innumerable video archives.
If nothing else, these comments serve as an example of what not to talk about, anywhere or at any time. As videos like these continue to be released, voters will continue to react accordingly. People must hold Trump, a candidate for president of the United States, and all others accountable for their words — no matter what they try to argue.