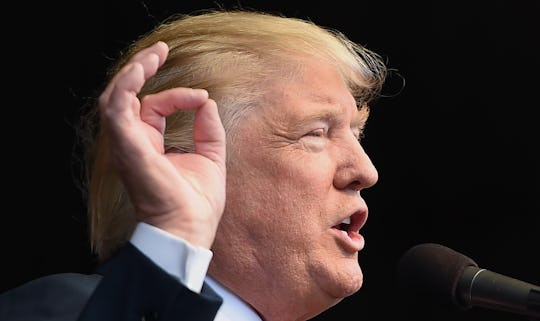 ROBYN BECK/AFP/Getty Images
Reactions To Donald Trump's Conversation With Billy Bush Are Rightly Angry
If you think Donald Trump is scary when he's scripted during his numerous rallies and campaign events, you'll think he's downright petrifying when he's unscripted. On Friday, The Washington Post acquired a tape of Donald Trump and Access Hollywood host Billy Bush talking in an extremely misogynistic and dangerous way about women from an off camera recording in 2005. And, unsurprisingly, those who have listened to the tape have plenty of reactions to Donald Trump's Billy Bush conversation.
Starting, of course, with Trump himself, who followed up a terrible discussion about women with a terrible answer attempting to divert attention away. Said Trump, "This was locker room banter. A private conversation that took place many years ago. Bill Clinton has said far worse to me on the golf course — not even close. I apologize if anyone was offended." (Billy Bush, for his part, deleted his Twitter.)
But, really, in what locker room do people hear banter like this? Said Trump in the recording:
I moved on her and I failed. I'll admit it ... I did try and f*ck her. She was married ... And I moved on her very heavily. In fact, I took her out furniture shopping. She wanted to get some furniture. I said, "I'll show you where they have some nice furniture." I moved on her like a bitch, but I couldn't get there. And she was married. Then all of a sudden I see her, she's now got the big phony tits and everything. She's totally changed her look.
Wait, there's more.
I've gotta use some Tic Tacs, just in case I start kissing her. You know I'm automatically attracted to beautiful — I just start kissing them. It's like a magnet. Just kiss. I don't even wait. And when you're a star they let you do it. You can do anything.
So, there you have it — our possible future president's view on consent.
Needless to say, Twitter came out in full form following the Washington Post recording. Many that use the social platform for humor went straight to jokes:
While others used their fact-checking skills to see if Trump's statement held merit.
But, for the most part, the response was (rightfully) incensed. After all, considering the language Trump used in the recording shows a lack of consent — during a time when one in six women are sexually assaulted during their lifetime, according to RAINN — it's terrifying to think that a man who so mistreats 51 percent of the population is so close to the White House.
Considering the second presidential debate is on Sunday, this is hardly the last we'll be hearing about the leaked conversation. And, already, Hillary Clinton has released a statement on Twitter, speaking for the 51 percent of women everywhere reading Trump's words.