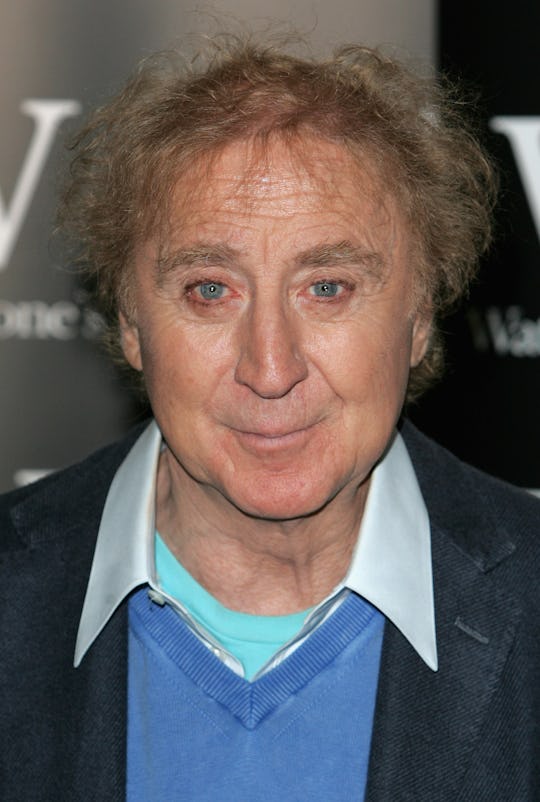 Gareth Cattermole/Getty Images Entertainment/Getty Images
Reactions To Gene Wilder's Death Show How Influential He Was
We know and love him best for his starring role in the classic 1971 film Willy Wonka & The Chocolate Factory, but a well-loved actor-turned-activist received his golden tickets out of this world Monday: His family confirmed that Gene Wilder died at 83, and reactions to his death show that this influential, sometimes neurotic man won't be easily forgotten. In addition to continuing to light up the silver screen in parts that exhibited his offbeat charm, such as a doctor who falls in love with a sheep in Everything You Always Wanted to Know About Sex *But Were Afraid to Ask, Wilder also cofounded the cancer outreach network Gilda's Club in 1999, according to Entertainment Weekly.
Gilda's Club was named after his third wife, who died of ovarian cancer. The move to start the club showcased the care Wilder had for other people, even as he continued to work sporadically after Gilda Radner's death. He starred in his own NBC sitcom, Something Wilder, from 1994 to 1995, and in 2005 he even published a memoir: Kiss Me Like a Stranger: My Search for Love and Art.
Wilder leave behind an expansive, impressive repertoire of works that a younger generation can look to for inspiration and joy, and, judging by reactions to his death, they're already doing that.
Although Wilder has died, it's clear that he'll continue to influence talented younger actors who hope to emulate his undeniable popularity with audiences. None will ever be quite like him, though.