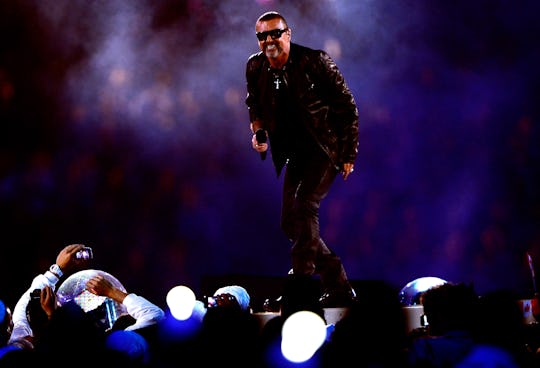 Pascal Le Segretain/Getty Images Sport/Getty Images
Fans React To George Michael's Death
On Sunday evening, the BBC reported that the infamous pop singer George Michael died at just 53 years old. As the news continues to make waves all over and in every corner of the world, the reactions to George Michael's death show just how shocked the world is, and what a horror of a year 2016 has been. According to a statement released by his publicist to the BBC, the statement, in part, announcing Michael's death read:
It is with great sadness that we can confirm our beloved son, brother and friend George passed away peacefully at home over the Christmas period. The family would ask that their privacy be respected at this difficult and emotional time. There will be no further comment at this stage.
An immediate cause of death for Michael was not made public, however, The Washington Times website noted that Michael had a "history of health problems." The BBC noted that Michael, in 2011, postponed a series of concerts following hospitalization for pneumonia. Following the treatment, Michael said that his health was "touch and go" following the pneumonia treatment. According to the BBC report, doctors needed to perform a tracheotomy to keep his airways open.
On Sunday evening, shortly after the news broke, fans took to Twitter to express their deep sympathy for the singer's passing — especially on a holiday.
Fans' reactions to Michael's death highlight just how awful 2016 has been across the board, its venom as far-reaching and unrelating as ever. There has been no sector of the world untouched by the evilness of this year. From politics to pop culture, nothing is safe. And in light of his shocking passing, fans are taking stock of the importance of the now and celebrating their favorite memories with the singer and star.
Fans Were Stunned
His Influence Stretched Generations
Everyone Agrees: 2016 Was The Worst
"Last Christmas" Will Forever Live On
The irony of the star's very "Last Christmas" being the day he left the world is incredibly bittersweet. In a calendar year that has taken David Bowie, Prince, and now George Michael, fans of iconic music are reeling from the devastation of moving forward without some of music's most incredible talents. As details continue to roll out on what happened to George Michael in his final weeks and days here with us on earth, one thing remains unfailingly certain: His legacy, his music, and his inspiration will live on forever in the hearts, minds, and stereos of those who loved him most.