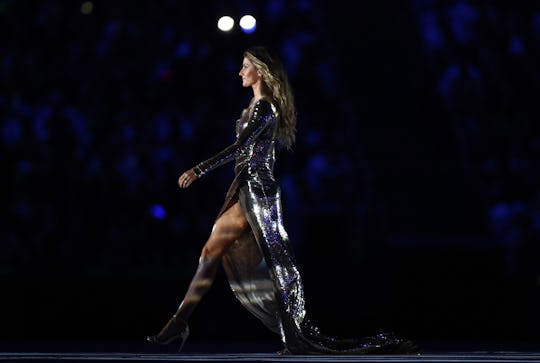 Ezra Shaw/Getty Images Sport/Getty Images
Reactions To Gisele Bundchen Dancing At The Rio Opening Ceremony Are Enthusiastic
The 2016 Summer Olympics are exciting. This is one of those things that only happens four times a year (two if you count the Winter Olympics), and we should be celebrating that! You know who is great at celebrating the Olympics being in Rio? Supermodel Gisele Bündchen, that's who. Reactions to Gisele Bundchen dancing at the opening ceremony are hilarious and, quite frankly, just as enthusiastic as her dance moves.
There are a lot of reasons to celebrate the Olympics. There's even more reason to celebrate the Olympics if you're from Brazil, and just did your final catwalk of your entire career. This doesn't really apply to anyone here but Bündchen, which is totally OK. Because as I said, this is her home and the woman just did the last walk of her career. She deserves to be excited. And when I say excited, I mean really excited.
Picture the holidays, your birthday, and that you just got a huge raise rolled into one. Can you picture that enthusiasm? OK, that was Bündchen, in all her glory. And, of course, we live in a world where people have a comment on everything — as they should. Twitter had some thoughts on Bündchen's dancing.
During the opening ceremony, Bundchen took her final walk, and what better audience than her home country? In a beautiful dress (glitz and glam is an understatement), Bundchen strutted her famous walk across the stage for the entire world to see. Besides being called one of Brazil's best "exports," the walk was flawless — and the "exports" part wasn't even on her.
While her famous walk will be missed, it's great to see that she is enjoying herself on such a big day. Congratulations Gisele on such an amazing career, your dancing will forever live on in fame.