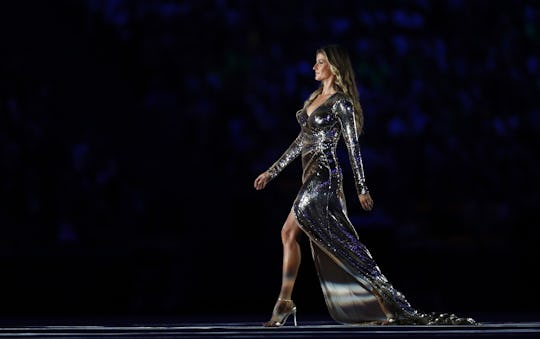 Ezra Shaw/Getty Images Sport/Getty Images
Reactions to Gisele's Final Catwalk At The Olympics Opening Ceremony Are Emotional
Although the 2016 Olympics Opening Ceremony were about so much more than a supermodel hailing from Brazil, it was clear that the appearance of a former Victoria Secret (not to mention, iconic) model was the highlight of the evening for many. The reactions to Gisele's final catwalk at the Olympics opening ceremony were emotional, to say the least. And even though it all could have devolved into a list of sexist social media posts (and sadly, it did, because after all this is the internet we're talking about), many of them actually skewed positive and reiterated the fact that the beloved, talented woman would be missed on the national, and international, stage.
Despite the fact that Matt Lauer called Gisele Bündchen one of Brazil's "most recognizable exports" (people aren't things, Matthew, and can't be exported as if they're goods to be purchased), opening ceremony viewers around the world didn't overlook the fact that the NBC hosts described Gisele's opening ceremony moment as her "last catwalk appearance," alluding to the fact that Gisele plans on retiring from the world of modeling.
It would be easy to criticize Gisele's appearance as degrading (she literally just walked across a stage and, I'm sure, she has far more to offer her country than simply walking), but her appearance was welcomed, following rumors that it would be much, much more controversial. Earlier this week, a minor "controversy" erupted when word broke that Gisele's appearance might involve a mugging at a food cart. The so-called racist scene was cut out and the opening ceremony's director eventually said a bit of the tale got lost in translation and that the scene was cut because "it wasn't funny."
Regardless, viewers seems somewhat distraught that Gisele's opening ceremony appearance would be her last, taking to Twitter to voice their love and admiration for the supermodel and tell-off Matt Lauer for what they perceived as sexist commentary. Here are just a few of the many, many reactions:
Of course, not everyone appreciated Gisele's appearance, pointing out that the country of Brazil has "much more to offer," stating:
Whether you loved it, hated it, or didn't think much of it at all, there's no denying that the simple of presence of someone as pivotal to Brazilian culture as Gisele, was worth mentioning on social media, and beyond. The entire world is focusing on her home country so, you know, why shouldn't she be part of the celebration (and enjoy herself, whichever way she chooses).