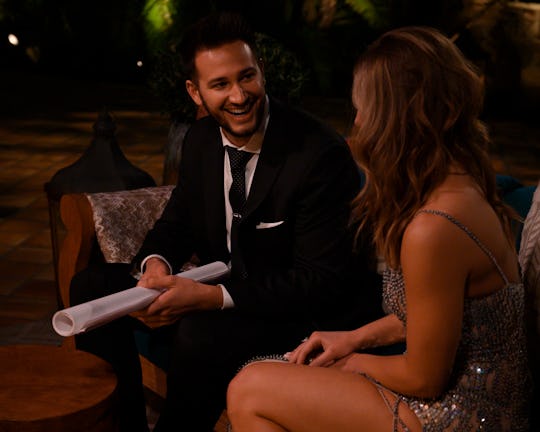 John Fleenor/ABC
Hannah Shut Down A Contestant On Her First Night As 'The Bachelorette'
Scott didn't make the best first impression on Hannah when he came to the cocktail party on night one ready to mansplain the future interior design of their home together (Hannah is an interior designer, my dude!), but things got way worse as the night progressed. Hannah wound up cutting him before the rose ceremony upon discovering he had a girlfriend back home and reactions to Hannah shutting down Scott on The Bachelorette were super supportive of her.
Ahead of the cocktail party, Hannah sat down with Demi and Katie, her fellow alums from Colton's season of The Bachelor, to get a quick pep talk, plus a little help from her friends during the actual party. Demi and Katie dubbed themselves "Hannah's angels" (à la Charlie's Angels, finger guns and all) and camped out in a surveillance van outside the mansion watching the party unfold. Viewers learned that Demi had recently received a message on social media informing her that one of the guys coming to meet Hannah still had a girlfriend back home. She claimed to have seen text messages proving they had been in contact as recently as the Monday before the first night in the mansion. Hannah wasted no time in separating Scott from the group to get to the bottom of it.
He denied both having a girlfriend and having spoken to her on Monday, but did admit that he had been dating someone back home. He claimed that he didn't see longterm potential with her, so Scott got her okay to go on The Bachelorette. The implication seemed to be that if things with Hannah didn't work out, he could go back home and resume dating his girlfriend like nothing had ever happened. Eventually, Scott confessed that she was his girlfriend and that he had been dating her as recently as Monday, "if you want me to be completely honest." Yeah, dude! That's definitely what she wants!
He then lodged what may have been one of the worst contestant defenses of all time — comparing having a girlfriend earlier in the week to Hannah recently being in love with Colton — which did not endear him to any fans, to say nothing of Hannah.
"You are such a jerk and it's not the same at all," Hannah snapped back. "You have another girl at home that you still have on the line and that's sh*tty. I'm done with this. There's no reason for you to be here if you're not serious, so it's time for you to head out."
Scott feebly tried to protest and prove that he really was serious about Hannah, but she shot back, "If that's what you think serious is, then you have a lot lot get ready for before you're ready for any type of engagement."
The whole ordeal ended with her practically having to drag him out of the house as he took his sweet time making the walk outside. It was a pretty mortifying ending for him, but an excellent opportunity for Hannah to show that she was in full control of her season and not to be messed with.