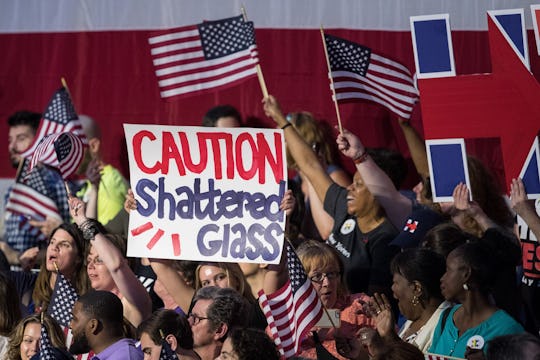 Drew Angerer/Getty Images News/Getty Images
Reactions To Hillary Clinton Being The First Female Presidential Nominee Are So Important
Tuesday was a huge night for former Secretary of State Hillary Clinton, as she clinched a victory in California to become the Democratic Party's presumptive presidential nominee, according to the New York Times. But that wasn't all: the historical win also made her the first-ever female presidential nominee, and you can bet that people had a lot to say about it on social media. Reactions to Hillary Clinton being the first female presidential nominee were overwhelmingly celebratory, with many comments focusing on how meaningful the win was, not just for Clinton, but for women and girls everywhere. While there were, of course, tweets and messages from naysayers (both on the Republican side, and also from Bernie Sanders supporters), and while there will still be a lot of partisan debate as the election process continues, for now, it's hard to ignore what an important landmark moment this really is for women, regardless of political leaning.
Clinton has had plenty of high-profile celebrity supporters during her campaign so far, so unsurprisingly, many of them were sharing their joy about her big win on Twitter last night. And while many of them were totally excited that Clinton herself had done so well, the underlying message from almost everyone was that the win was a huge step forward for women and feminism as a whole.
Others expressed their awe and joy at being able to experience this moment with their kids, knowing that they could soon have a female POTUS.
While others were just reveling in the excitement, looking ahead to a Clinton win in November:
Then there was this mind-blowing tweet:
And, well, the perfect Leslie Knope gif to sum it all up:
Yeah, I'd say that's a pretty appropriate reaction. Regardless of your take on Clinton, there's no denying that finally having a female presidential nominee is pretty amazing.