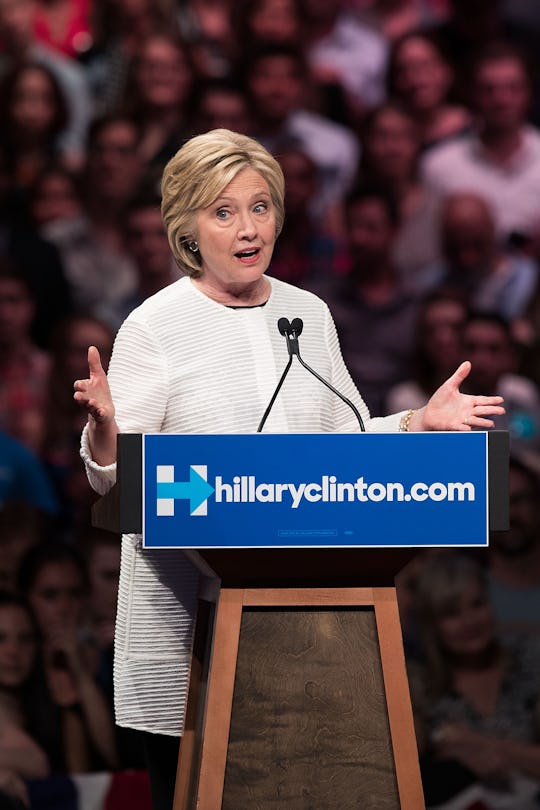 Drew Angerer/Getty Images News/Getty Images
Reactions To Hillary Clinton's 'Delete Your Account' Tweet Are Equally Hilarious
Hillary Clinton may be the official 2016 Democratic presidential nominee, but after this week, she may as well just be called the Shade Queen in Chief. In a particularly scathing tweet on Thursday, Clinton took Republican rival Donald Trump to task, responding to his nasty jabs by curtly suggesting he "delete [his] account." Within minutes, hysterical reactions to Clinton's "Delete your account" tweet began flooding the social media site.
"Tell him, boy, bye," the official HuffPost Women account joked, referencing a lyric from Beyoncé's song "Sorry." Other users simply applauded the burn with one-word responses. "Nice," tweeted @MikeIsaac.
Trump's initial tweet came directly on the heels of President Obama's official Clinton endorsement earlier on Thursday. "Obama just endorsed Crooked Hillary," he wrote. "He wants four more years of Obama—but nobody else does!" Within five minutes, Clinton had responded with an out-of-character, but entirely hilarious insult of her own. "Delete your account," Clinton wrote, including Trump's tweet below.
While Clinton hasn't exactly shied away from taking Trump on directly in the past, Thursday's post was particularly harsh. It's not clear at this point whether the former Secretary herself sent the tweet or whether it was the work of a particularly smart-aleck intern, but either way, the brief, yet withering message accomplished what it had set out to do — and Twitter users everywhere were left salivating for more:
The president's endorsement was just thing Clinton needed to seal the deal and secure the Democratic nomination, following an Associated Press report on Tuesday that claimed Clinton had won over enough superdelegates to take the title in July. Although it was all but official, Obama's words of approval on Thursday pushed her over the top.
"I don't think there's ever been someone so qualified to hold this office," the president gushed in a video published by the Clinton camp this week. "I have seen her judgment, I've seen her toughness, I've seen her commitment to our values up close. She's got the courage, the compassion, and the heart to get the job done. I'm with her, I am fired up, and I cannot wait to get out there to campaign for Hillary."
However, while Trump arguably did his best to take down that celebration a notch on Thursday, he didn't get very far. "How long did it take your staff of 823 people to think that up," Trump tweeted back, in response to Clinton's barb, "and where are your 33,000 emails that you deleted?" True to character, Twitter was quick to take the bait.
"I think they're deleted," joked Mother Jones social engagement editor Ben Dreyfuss. (Zing.)
As of yet, Clinton's camp itself has yet to respond. But if the impending reply, or lack therof, is anything like the previous tweet, you'll probably need a bucket of popcorn and a recliner. This is going to get good.