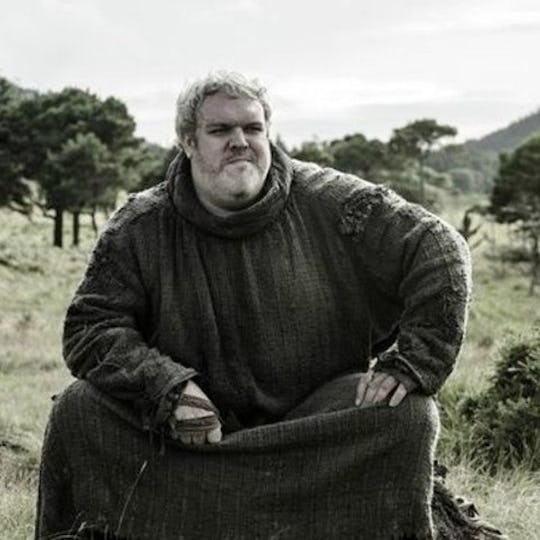 HBO
Reactions To Hodor's Death On 'Game Of Thrones' Prove How Much He'll Be Missed
In the most unexpected twist from Game of Thrones since they actually beheaded Ned Stark, on Sunday's episode we learned exactly what happened to Hodor (nee Wyllis) that turned him into the lovable and mostly mute Hodor we knew. Put as simply as humanly possible, during an attack of White Walkers while Bran was in the midst of a vision, Bran warged into a young Hodor from the past so that he could hold the door (and "hold-the-door" eventually became "hodor") and present-day Hodor lost his life while past-Hodor was never the same. And reactions to Hodor's death on the internet are almost as heartbroken as they were immediately post Red Wedding.
When Bran tried to speak to his father at the Tower of Joy, the Three-Eyed Raven warned Bran about what happens when you try to change the past, but Bran was insistent he could find a way to actually speak to the late and very much missed Ned Stark. As a matter of fact, we were all giddy with possibilities. Maybe he could change history! Maybe he could even bring back some of our favorite fallen characters! But it looks like Bran learned his lesson the hard way, with the unfair death of Hodor, and the internet is not pleased.
Here is what Twitter had to say after Hodor's heroic and completely unfair death in episode 5:
Sobbing GIFs
Not even all of these pictures of heartbroken people can accurately depict the sadness in my heart and on my face right now.
Sudden, Depressing Realizations Of What "Hodor" Meant
And now I will cry every time someone asks me to hold the door. Rest in peace, buddy.
Tweets In Tribute
Hodor was a misunderstood, but much beloved character. He didn't say much (which is apparently all Bran's fault), but he was a loyal servant through and through.
And Some Took Solace In The Budding Romance Of Brienne And Tormund
Game of Thrones fans have to take their happy moments when they can get them, which are few and far between. Let's all take a breather and focus on Brienne and Tormund for a moment, shall we?
It would be easy to focus all of our current anger on Bran, who definitely did NOT listen to the Three-Eyed Raven when he said not to mess with that stuff, but today is a day of mourning. We'll be angry at Bran later. Right now, let's pour one out for our fallen brother, Hodor/Willis.