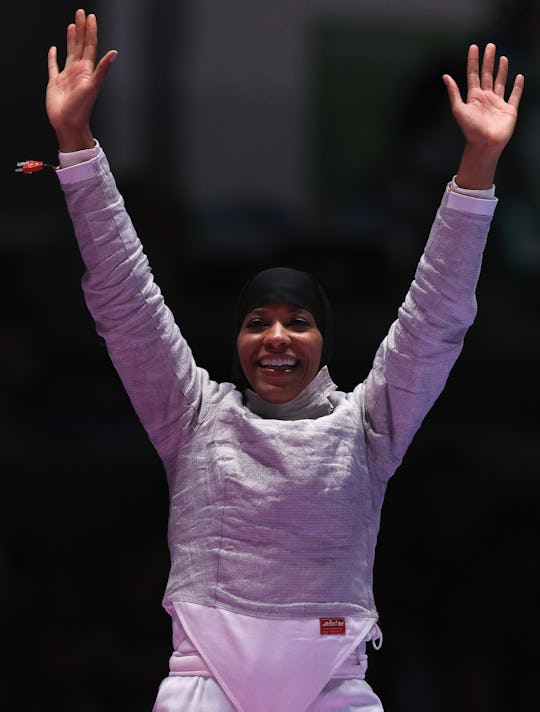 Tom Pennington/Getty Images Sport/Getty Images
Reactions To Ibtihaj Muhammad Olympic Win Show True Pride
On Saturday, American fencer Ibtihaj Muhammad and her teammates took home the team saber bronze medal after defeating Italy 45-30. The 30-year-old New Jersey native gained widespread attention in Rio as the first American athlete to compete in a hijab — and now, she's earned her first Olympic medal. Reactions to Ibtihaj Muhammad's Olympic win were an awesome celebration of Muhammad's athletic prowess, and many celebrated what Muhammad represented to them.
The win on Saturday was the American women's fencing team's first medal in Rio, and it was well-earned. The women first went up against the Polish team, before taking on Russia and Italy, and Muhammad earned the American team an advantage when she defeated Russian fencers Yana Egorian and Ekaterina Dyachenko. Muhammad's sparring helped the American team win the bronze medal. Considering that this is Muhammad's first Olympic Games — an injury kept her from the 2012 Olympics in London — that's no small feat.
"This has been a long journey for us," Muhammad said, according to The Chicago Tribune. "To be able to compete at the level that we've worked toward, on the world's biggest stage, the Olympic Games, is truly a blessing for us. ... I'll never forget this moment."
Judging by the reactions to Muhammad's win, nobody else will be forgetting the moment anytime soon, either.
Muhammad's role as the first American athlete to compete in a hijab quickly became a media focus point when she made it to Rio. Many people were annoyed that Muhammad's clothing choices were gaining more attention than her athleticism was, and they were right to be frustrated. However, Muhammad has said she's happy to inspire young Muslim girls, and hopes that the recent focus on her religion during the Olympics might help combat stigma. As she explained in a recent Cycle video:
I wish that I had the luxury to ignore the bigotry and the outright hate that we're experiencing in this political climate here in the United States. But I feel like I have to speak against these things. They directly affect me, they directly affect my family and my friends, and people who look like me. And the little girls that I feel like I saw myself in... I wanted to qualify for an Olympic team for them, I wanted them to know that there were no boundaries to the goals that they set for themselves.
It sounds like Muhammad's not only reached her goal of qualifying for the Olympics, but surpassed it, thanks to her win on Saturday. Not only did she win bronze, but she helped inspire many along the way.