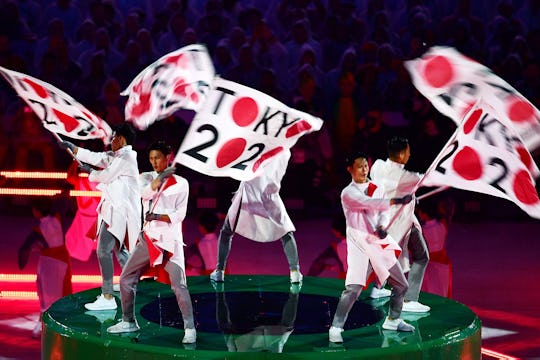 JIM WATSON/AFP/Getty Images
Reactions To Japan's Robot Costumes At The Closing Ceremony Show People Were Confused
During the Olympic closing ceremony's official hand-off of the games from Rio to Tokyo, there were many reasons to get pumped. From Mario to Hello Kitty and general awesomeness, it's clear we have a lot to look forward to in four years. But one moment during Tokyo's time in the spotlight had viewers a bit confused: the reactions to Japan's robot costumes were mostly perplexed.
One of the highlights of the closing ceremony was when Rio handed the Olympic responsibilities off to Tokyo, which will host the Games in 2020. To give us all a taste of what we can expect when we turn on the opening ceremony in four years, Japan pulled out all the stops, with appearances from Hello Kitty, Super Mario... and the strange dancing robot people.
It actually made sense, though, considering one of Tokyo 2020's core concepts is, "The world's best technologies will be adopted in developing competition venues and in operating the Games." And what represents "the world's best technologies" more than some robots? If the point of the robots was to build anticipation, then all I have to say is: Let's see what you got, Tokyo!
Some viewers weren't reading that far into it, though. Some were more puzzled by the bubble-like robot people, while others loved their futuristic look:
Unfortunately, after all that hype, we have to wait until 2020 to see what Tokyo can deliver. The next Summer Olympics begin on July 24, 2020. Although we can't know what to expect from Japan's performances, we can at least begin to prepare for five new (or reintroduced) sports that will be included in the games: baseball/softball, karate, skateboarding, sport climbing, and surfing. Seriously, Japan is completely reinventing the Olympics, and I can't wait to see what they have in store (robots, skateboarding, and whatever else they have up their techno sleeve).
By then, maybe Japan will have the chance to clarify exactly what message they are trying to send with their dancing robot people. My suggestion: If you want to stick with the robots, maybe less Rosie from The Jetsons, and more of a showdown with Godzilla?