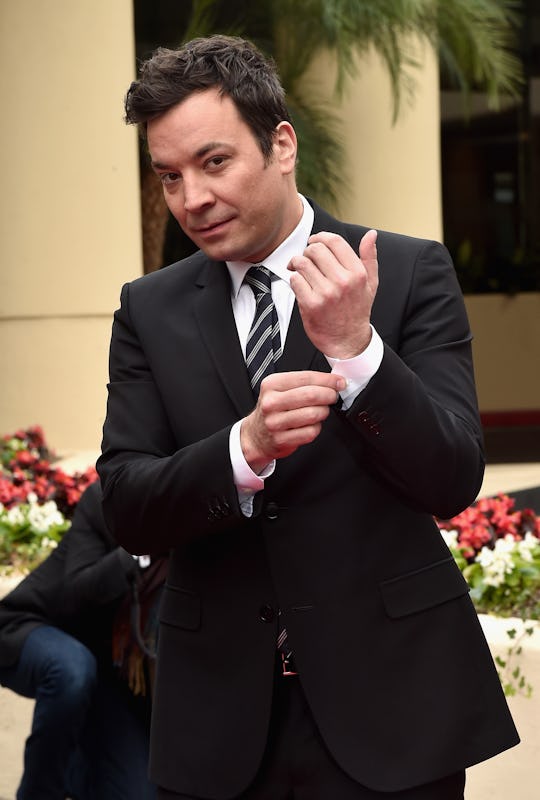 Alberto E. Rodriguez/Getty Images Entertainment/Getty Images
Fans *Adored* Jimmy's Globes Opening Act
Jimmy Fallon had the honor of taking on the Golden Globes' first ever filmed cold open musical number ahead of his monologue this year and the star-studded act already has people talking. Reactions to Jimmy Fallon's opening monologue, which spoofed La La Land's opening "traffic" sequence, are pouring in on Twitter and everyone seems to adore it.
In typical award show musical number style, the opening boasted cameos from the year's most popular films and movies, including Amy Adams flanked by guys in hazmat suits, Kit Harington waking from the dead, Millie Bobby Brown rapping like the true queen she is, the cast of The People v. O.J. Simpson: American Crime Story, Evan Rachel Wood glitching as Dolores the Westworld host, and Rami Malek donning a signature Elliot Alderson hoodie over his tuxedo, hacking Fallon's computer, and threatening to release his findings to the public. The opening even had several Barbs performing a synchronized swimming act after her fellow Stranger Things cast members revealed that she was still alive. (This is arguably the biggest news to come out of the Golden Globes.)
There was also an almost-kiss between Fallon and his former "Weekend Update" cohost Tina Fey, who claimed she had been "waiting for this moment for 20 years," but his real target was Justin Timberlake, who came through for a much-anticipated cameo appearance.
The pair proceeded to reenact an airy waltz sequence from La La Land, in which Ryan Gosling and Emma Stone dance amidst the stars at the Griffith Observatory. Timberlake takes the opportunity to give Fallon a pep talk, complete with spot on impression, which makes Jimmy more than a little uncomfortable.
Unfortunately, the pep talk did not preclude certain disaster from befalling Jimmy's opening monologue once the show went live. His teleprompter didn't work and there was a painfully long lag time before they got another monitor set up. Luckily, Fallon has a little bit of a background in comedy.
"I can just make this up," he joked.
He offered to do impressions, cut to far more impressive entertainer Justin Timberlake, and he even danced a little jig before he finally got back on track with his opening monologue as written. He actually vamped pretty successfully and the flub didn't feel awkward at all. Even his actual monologue was funny! The recovery was graceful and professional, but everyone was so impressed with the musical number, no one even seemed to care about the monitor glitch.