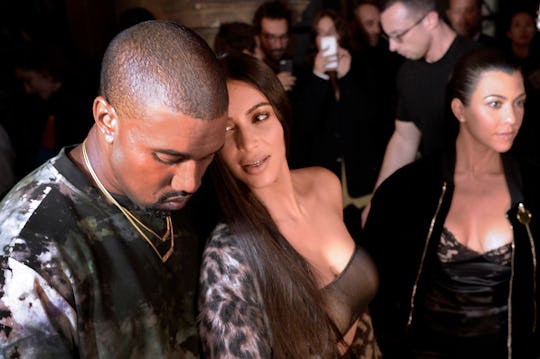 ALAIN JOCARD/AFP/Getty Images
Reactions To Kanye West's Hospitalization Show The Support He Deserves
When our favorite musicians and actors present an airbrushed — and, ultimately, unattainable — version of themselves to the world, it's easy to forget they're actually real people, vulnerable to the same setbacks, disappointment, and mistakes as we mere mortals. And since roughly one in five U.S. adults experiences mental illness in a given year, according to the National Alliance on Mental Illness, it should come as no surprise that many celebrities live with mental illness, too. In recent years, stars like Demi Lovato, Cara Delevingne, Pete Wentz, and Russell Brand have spoken candidly about their struggles with depression, anxiety, and bipolar disorder to help challenge some of the stereotypes and misconceptions associated with such diseases. Thankfully, most celebrity reactions to Kanye West's hospitalization this week show the support he, too, deserves for seeking treatment, rather than the jokes and accusations that only serve to perpetuate mental illness stigma.
According to PEOPLE, West was taken to UCLA Medical Center Monday to be treated for stress and exhaustion. The hospitalization followed days of unusual behavior by the rapper: Earlier Monday, he had abruptly called off the remaining dates of his national Saint Pablo tour; his Saturday show in Sacramento, California, was also cut short after Kanye performed just three songs and delivered a 15-minute tirade, during which he called out fellow musicians Jay Z and Beyoncé and declared his support for President-elect Donald Trump. The following night, he canceled his show in Los Angeles.
West's representative hasn't responded to Romper's request for comment.
The Los Angeles Times reported the LAPD visited West's home as part of a disturbance call Monday around 1:20 p.m. local time. Sources said the case turned into a "medical emergency" and was handed off to the Los Angeles Fire Department. According to NBC News, "no criminal activity" was involved and West agreed to seek treatment voluntarily.
Fellow celebrities, music industry professionals, and fans were quick to send messages of support via Twitter when news of Kanye's hospitalization broke.
Others took the opportunity to call out those who made wisecracks or accused the rapper, who's married to Kim Kardashian West, of pulling a publicity stunt.
As discussions surrounding mental health continue — especially in the wake of the election, which prompted many dejected voters to reach out to free mental health support services in the days after Trump's victory — the importance of self-care and of knowing when to seek professional treatment cannot be overstressed.
Though Kanye likely doesn't experience barriers to mental health care, such as being underinsured or facing a scarcity of treatment providers, here's hoping he gets the help he needs, for his sake and for that of his family.