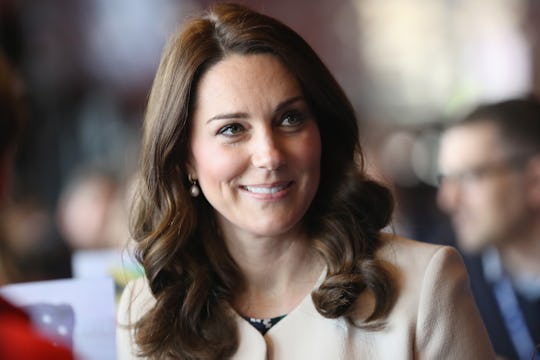 Chris Jackson/Getty Images Entertainment/Getty Images
Reactions To Kate Middleton Being In Labor Show People Are Ready For Royal Baby No.3
The big day has finally arrived: Kensington Palace confirmed early Monday that Catherine, the Duchess of Cambridge was admitted to hospital "in the early stages of labor," according to CNN, and if her previous birth experiences are any indication, it means that we'll likely get our first glimpse of the newest prince or princess very soon. On social media, reactions to Kate Middleton being in labor show that the baby's arrival is a pretty big deal — although, to be fair, not everyone considers the royal baby to be important news.
A tweet from the palace confirmed that the Duke and Duchess traveled by car to the Lindo Wing of St. Mary's Hospital early Monday, which has pretty much become standard royal baby protocol at this point (it's the same hospital where Prince George and Princess Charlotte were also born). That means that both royal fans and reporters and cameras will now officially be parked outside the Lindo Wing waiting for the royal couple to emerge with their newborn, but it also means that the royal baby has quickly become a major trending topic on Twitter. Some, of course, were quick to dismiss excitement over the newest royal, who will be fifth in line for the throne. But others are clearly majorly excited, and are eagerly awaiting any and all updates. 
For fans of the royal couple, waking up to news that the Duchess was in labor was a pretty great way to start a Monday:
And that excitement has naturally led to a smattering of speculation over the still-unknown details, like whether the baby is a boy or a girl, and what it's name might be:
There are, of course, many who feel the need to point out that caring about the arrival of a new prince or princess is particularly pointless at a time when there are real issues to worry about:
But others argued that, hey, the world can be a dark place. Can we not just indulge ourselves a little by celebrating the birth of this new little baby?
Opinions about the value of a new royal baby to the news cycle aside though, some Twitter users couldn't help but feel that the fact that the third royal baby was likely set to be born on St. George's Day was definitely a missed opportunity:
Given that this is now the third time the world has anxiously awaited the arrival of the Duke and Duchess' child, there are at least a few things we can all expect. For one, it's entirely possible we'll see the couple pose with their newborn on the Lindo Wing steps today: according to People, in 2015 Princess Charlotte was actually born within a few hours of the Duchess' admission to hospital, and the couple left the hospital ten hours later.
One possible clue that the Duke and Duchess' hospital stay will be similarly short this time around as well? Middleton's stylist, Natasha Archer, was reportedly seen leaving the Lindo Wing, according to The Express, suggesting that perhaps the royal baby has already been born, and the Duchess is preparing to make her first post-birth public appearance.
Even if you aren't a royal watcher, news of a royal birth is still pretty exciting. And while it honestly can't be easy for the Duchess to appear in front of the entire world within hours of literally giving birth, seeing the couple pose on the hospital steps with their newest baby (and hopefully even with Prince George and Princess Charlotte in tow?) is certainly an iconic moment. And by all indications, it's also one that should be happening very soon.