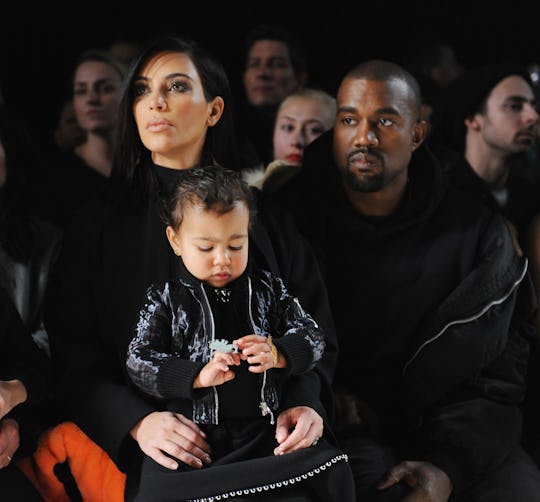 Craig Barritt/Getty Images Entertainment/Getty Images
Reactions To Kim Kardashian & Kanye West's Alleged Divorce Show A Nation Deeply Divided
Just a month after the most polarizing election of our time, America is once again reeling, this time from the news that Kim Kardashian and Kanye West, the millennial Jack and Jackie, might be splitting up. So far, it's just an unconfirmed rumor from an anonymous Us Weekly source — Kardashian's rep has yet to respond to Romper's request for comment — but it's already tearing the nation apart (on Twitter, anyway). The reactions to Kim and Kanye's alleged divorce show that fans are firmly separating into camps, and almost everyone is very passionate about their position.
Of course, there are some people who are too cool to care about the possibly-not-true breakup of a celebrity couple. There are even some who are so cool, they've taken the time to pull out their phones and type out 140-character missives on how little they care. But among those who do, there's little unity. Fans have vastly different opinions on the union between the rapper and the selfie queen, and there's little common ground. The reactions can be sorted into four groups, much like U.S. political parties or Hogwarts houses. I'll leave it to you, the reader, to decide how they match up, though. That's none of my business.
Team Kim
Some fans taking Kim's side rightly point out that nobody knows what Kim and Kanye's marriage is like except for Kim and Kanye. Others just really hate that dude, and have been waiting for the reality star to be "free" for years.
Team Kanye
Some Kanye supporters take exception with the timing of the alleged split, since the rapper was just recently released from the hospital, where he was undergoing psychiatric treatment. Others are excited about what sort of music a breakup could inspire, which is pretty damn dark and selfish.
Team Say-It-Ain't-So
Calm down, everyone, we still don't know if this is really happening. Maybe the source was lying. Maybe they were misinformed. Maybe Kim was considering divorce, but after seeing so many pleas for reconciliation on Twitter, she changed her mind! OK, that's probably not the case. And before you judge people for getting worked up about a celebrity divorce, remember that there's probably a famous couple you're low-key invested in, too. I'm still bummed about Amy Poehler and Will Arnett.
Team Konspiracy
This is the internet, so of course there are going to be conspiracy theories. But really, only Homer Simpson would file for divorce in order to remarry the same person. And there's absolutely no evidence that Kim's robbery wasn't real, or that Saint isn't actually Kanye's son. And what kind of coward would ask for a divorce by leaking the story to the media? Oh, right. I guess that is a possibility.