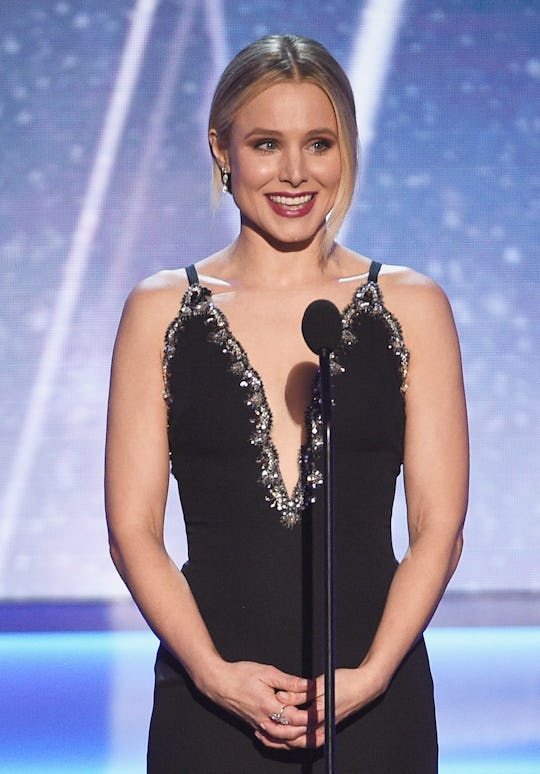 Kevork Djansezian/Getty Images Entertainment/Getty Images
Twitter Loved Kristen Bell's SAG Awards Opening Monologue
2018 is the first year that the Screen Actors Guild Awards has a host, so people were wondering how it would go. Spoiler: it was going to go amazingly. Reactions to Kristen Bell's SAG Awards opening monologue prove that she is already a phenomenal host. Seriously, let's just let Bell host all the awards ceremonies from here on out. Is everybody on board with that plan? Great.
As usual, the SAG Awards started with various actors giving short monologues about how their careers started. This year, the audience heard from Allison Janney, Millie Bobby Brown, and Tracee Ellis Ross. Bell finished the monologues with her own story about singing along to every Disney movie as a child, and hoping one day to be a part of the magic. "I'm Kristen Bell and I am a narcissist," she said (she was supposed to say actor). That's pretty much the moment I knew that Bell's monologue was going to blow it out of the water. And I was right. The jokes were sharp, the message was timely, nothing was offensive, and as a side note, that dress was absolutely killer. And obviously I am not the only person feeling this way because Twitter went wild with love for Bell.
Bell started off the monologue that she was the first person to host these awards, or the "first lady" if you will. And while she never thought she'd grow up to be the First Lady she kinda likes it. Oh and she's decided to take on online bullying as her first initiative because, she said, "I have yet to see any progress made on that problem quite yet." I love a good Trump dig, but I love a Trump dig even more when you don't see it coming. In case you'd forgotten, Melania Trump, the actual First Lady, decided that cyber bullying would be her main initiative, though she doesn't seem to have done much about it, and Trump himself is basically the world's biggest cyber bully.
Some of Bell's other zingers included calling out the cast of GLOW, which she explained was about a group of strong, beautiful, intelligent women who got roped into doing Mark Maron's podcast. She also called out Elisabeth Moss, from the "documentary" The Handmaid's Tale. She also joked, in reference to the (incredible) movie Get Out, "If you go to the tea party you're immediately on your way to the sunken place." Bell is definitely my favorite host of an awards show in recent memory.
But she took her speech up a notch when she suddenly got serious. She dedicated the ceremony not just to the successful actors in the room, but also to the actors sitting and watching at home. The ones "who have just gone on their 20th fruitless commercial audition who are watching this in a studio apartment in Koreatown with their five roommates downing their nightly dinner of canned tuna. This show is for you guys! And it's to entice you to stick around." Sorry, just have to wipe away a tear really quick.
Bell also turned her attention to the political atmosphere we're all living in these days, stating:
We are living in a watershed moment in time and as we march forward with active momentum and open ears, let's make sure we are leading the charge with empathy and diligence, because fear and anger never win the race.
I am here for this so much, I honestly don't even know what else to say. It was the perfect opening monologue and I'm only surprised that it took someone this long to get Bell to host one of these things. Can she do the Oscars too?
Check out Romper's new video series, Romper's Doula Diaries:
Watch full episodes of Romper's Doula Diaries on Facebook Watch.