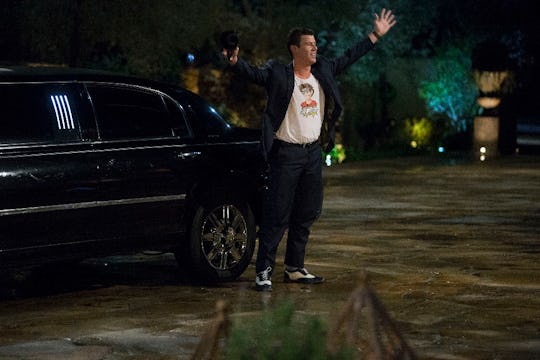 ABC/Paul Hebert
Lucas' Whaboom On 'The Bachelorette' Is Too Much For Fans
There are contestants on The Bachelor shows that don't really stand out until later, and then there are the ones that make an outrageous first impression from the start. In Nick Viall's season, that was definitely "Shark Girl" Alexis who showed up in the Left Shark costume (and kept insisting it was a dolphin costume). On the premiere of The Bachelorette, there were a few contenders for the weirdest introduction, but one took the cake: Lucas, aka Whaboom. His schtick is screaming out "whaboom" — and it's as odd as it sounds. Reactions to Lucas' "whaboom" on The Bachelorette show that viewers are already over it.
Viewers got a sneak peak at Whaboom with a clip shared on The Bachelorette's Facebook page, so they could get "just a glimpse" of what was to come from Lucas. He came out of his limo after making a grand announcement, and proceeded to — scream? yell? convulse? — the word "whaboom." "It's not about standing out, it's about connection," he then told Rachel. Umm... OK? Well, Lucas certainly made a first impression to both Rachel and the other contestants. He gave another "whaboom" when he entered the mansion, prompting the other men to say they "found the crazy one" of the bunch.
Seeing as the moment was so strange, fans immediately took to Twitter to express their thoughts:
In his introduction package, Lucas said "whaboom" came from the word "boom." Groundbreaking. Not only does he like to say the phrase, he likes to wear it: Lucas showed up to the mansion in a "whaboom" shirt. So, who is the man behind the "whaboom"? According to his bio on ABC's site, he lists it as his occupation. Perhaps Vinny from Jersey Shore is right and he's here to sell his shirts — and make "whaboom" a brand.
Viewers aren't the only ones who are tired of Lucas. Once in the mansion, none of the men really enjoy his company — but Blake is especially annoyed at him. Lucas shows up not just with his shirt, but with a megaphone. Blake suspects that he's not here for Rachel, and merely wants to be on television. Lucas didn't reveal whether he's right, but Bachelor Nation is having a hard time thinking he's a great fit for Rachel. They'll have to keep watching to see if Lucas "whabooms" his way to her heart (...I really doubt it).