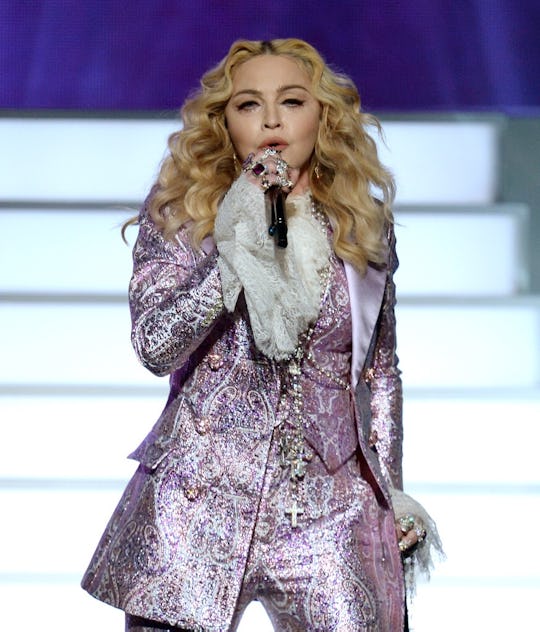 Kevin Winter/Getty
Reactions To Madonna's Prince Tribute At The Billboard Music Awards Were Mixed
The 2016 Billboard Music Awards ended on a high note with a beautiful performance from Madonna that honored the late (and truly great) Prince. But the reactions to Madonna's Prince tribute were mixed, leaving fans of the late artist either wanting more or wanting her to get off the stage.
Prince died on April 21 at the age of 57, leaving fans shaken and saddened. According to CNN, Prince's body was found at his Paisley Park studio after he'd been treated for the flu earlier in the week. Billboard selected Madonna to helm a tribute to the late singer, and the singer asked The Root's singer Questlove to share thoughts on Prince before the performance. Though Billboard released details on Britney Spears, Celine Dion, and P!nk's appearances, it kept quiet about what to expect from Madonna. The tribute ultimately combined parts of three Prince songs and included a surprise appearance by Stevie Wonder.
Questlove introduced Madonna by saying, "I just want to take a moment to remember the great Prince Rodgers Nelson." He asked for a moment of silence and added, "but inside of our heads it should be anything but silent." His words moved fans:
As the performance began, fans heard Prince's voice on the opening to "Let's Go Crazy." Madonna emerged in a sparkling suit, seated on a purple throne; shots of a cemetery served as the backdrop to her rendition of "Nothing Compares 2 U." Some fans liked the tribute, while others were skeptical.
Toward the end, Stevie Wonder appeared onstage to sing "Purple Rain" with Madonna, a surprise that thrilled fans.
Even though Wonder seemed to be universally well-received, Twitter wasn't sold on the tribute as a whole.
Though fans weren't sold on Madonna as the primary performer, there were still plenty of people who felt that elements of the tribute were heartfelt and deeply meaningful. Seeing the entire crowd at the BBMAs swaying to "Purple Rain" made for a particularly moving moment.