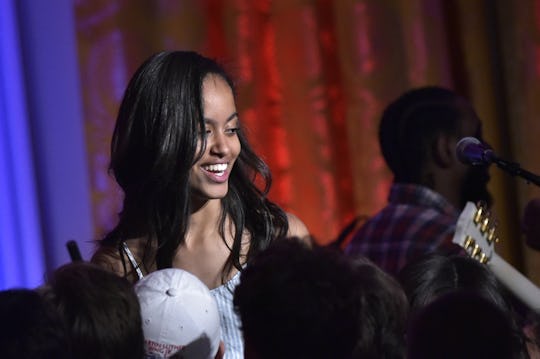 MANDEL NGAN/AFP/Getty Images
Reactions To Malia Obama Allegedly Smoking Are Surprisingly Chill, As They Should Be
Oh, boy. We're doing this. Radar Online, the same website that rocketed Nadya "Octomom" Suleman to stardom, has published a video of what appears to be Malia Obama smoking, and the reactions are pouring in. The website, which is owned by the same company that publishes the National Enquirer and Star magazine, obtained a brief selfie video taken at Lollapalooza in July, during which someone who looks kind of like Obama can be seen over the subject's shoulder as she appears to be smoking what "an eyewitness claims was a marijuana cigarette!" Shut down the election, the Olympics, and everything else, because this is an emergency.
The New York Post has helpfully pointed out that Obama's dad, a sitting U.S. president, also has a history with pot. The Mirror reported that the teenager – who, again, was attending a summer music festival – was also seen "twerking and grinding while wearing a pair of shorts and a tight fitting boob tube," which I guess is the British term for "shirt"? Despite the pearl-clutching and sh*t-stirring of the tabloids, though, most people are unconcerned with Obama's virtue. She's a teenager doing what teenagers do, and she's probably much more "well-behaved" than a lot of her critics were at 18. Luckily, she's got plenty of defenders.
Meghan McCain, daughter of Arizona Sen. John McCain, who once lost a job to Obama's dad, is on her side. Pretty cool.
She was in Chicago, not that town from Footloose.
If we're going to call out someone who just became old enough to vote a month ago (she could just be smoking a cigarette, which is perfectly legal), we should also call out people in their 30s who flake on voting, preferring instead to mutilate elephants in Zimbabwe (please don't click that link).
This! So much this!
There's a reason that marijuana is legal in many U.S. states, and even used as medicine. Obama probably ingests high fructose corn syrup in moderation, too, but I'm not that worried about her.
Over it. Let her live.