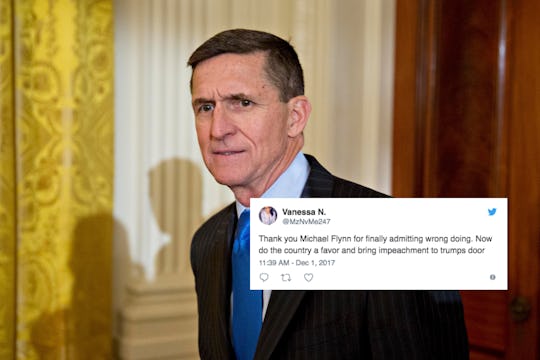 Pool/Getty Images News/Getty Images
People Are Freaking Out Over Michael Flynn's Claims That Trump Told Him To Contact Russia
On Friday, President Donald Trump's former national security adviser, Retired Lt. Gen. Michael Flynn, pleaded guilty to having lied to the FBI about his connection to the Russian ambassador, and he has also indicated that he intends to fully cooperate with the ongoing investigation, according to ABC News. On social media, reactions to Michael Flynn's claims that Trump directed him to contact the Russians show that, while it's clearly a major update in the case, most people aren't exactly surprised to hear that Trump might not be as innocent as he has claimed.
According to CNN, in addition to his formal guilty plea, Flynn also admitted his guilt in a statement following his court appearance, and wrote, "I recognize that the actions I acknowledged in court today were wrong, and, through my faith in God, I am working to set things right." Flynn is now the fourth person to be charged as part of special counsel Robert Mueller's investigation, and the second to plead guilty (In October, Trump's campaign foreign policy adviser George Papadopoulos pled guilty for making a false statement to the FBI, according to The Washington Post). Yet it seems that, with Flynn's admission, Mueller may really only just be getting started: though the White House responded Friday to emphasize that "nothing about the guilty plea or the charge implicates anyone other than Mr. Flynn," according to CNN, many on social media are expecting Flynn to be but one more step in what might be Trump's inevitable downfall.
While to some it was satisfying that Flynn at least owned up to his crime, most people just thought it was confirmation of something that already seemed obvious:
But even still, seeing Flynn actually face consequences — coupled with his reported willingness to testify that it was actually Trump gave the order to make contact with the Russians — definitely felt pretty satisfying to many people.
And just in case that might seem like petty schadenfreude on the parts of annoying liberal snowflakes, let's not forget about this:
Of course, Flynn's infamous "lock her up" chants have now been proven to be the height of hypocrisy, and, well, according to Twitter, there can only be one remedy:
Then there were the tweets for Hillary Clinton, whose head must honestly be exploding right about now:
And then there was this gem, inspired by none other than the POTUS himself:
But as much as the Flynn development might feel validating to everyone who has been hoping for some kind of justice to be done, some Twitter users raised the very good point that Flynn's plea probably shouldn't be the country's main priority right now. According to CNN, Senate Majority Leader Mitch McConnell said Friday that Senate Republicans have enough votes to pass the highly controversial tax bill, which would offer big tax cuts to corporations and the wealthy, but do little to benefit average American families — while also increasing the national debt.
There's no question that Flynn's guilty plea — and his apparent willingness to implicate Trump — is a big deal. And the likelihood that there will be even bigger developments still to come (what about Jared Kushner? Donald Trump Jr.?) makes it even more significant. And, to be fair, there is something totally satisfying in seeing the man who called for Hillary Clinton to be put in jail actually facing charges for lying to the FBI. But ultimately, it still isn't an actual win for anyone.
Hopefully those in the Trump administration who have committed crimes will end up having to take responsibility for their actions, and hopefully, voters will eventually have some actual, solid information about what really happened during the 2016 election. But for now, Trump is still the president, and the GOP is still trying to implement policies that could have a disastrous effect on Americans. What's more is that, no matter what the outcome of the investigation turns out to be, the country still missed out on being led by the candidate who actually won the majority of voter support by the largest margin ever. So while the Flynn's guilty plea might feel vindicating, that's still a pretty infuriating reality.