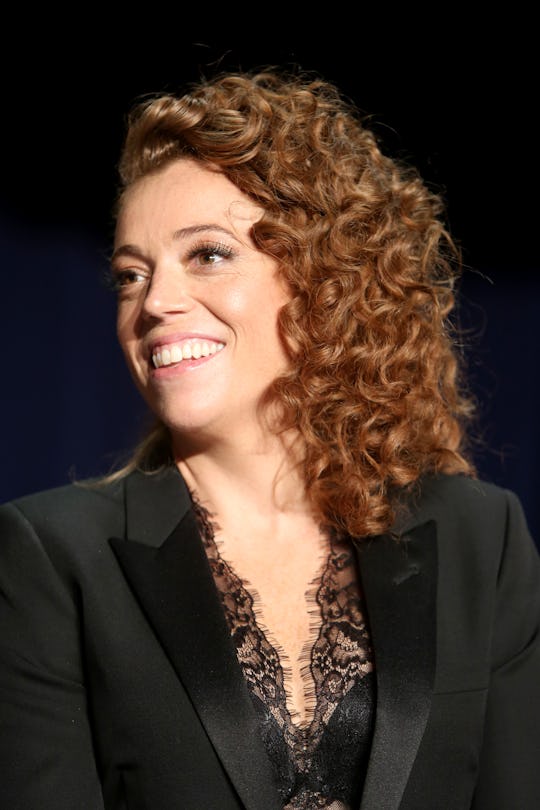 Tasos Katopodis/Getty Images Entertainment/Getty Images
Twitter Is In Love With Michelle Wolf After Her Incredibly Fearless Correspondents' Dinner Roast
On Saturday night, comedian Michelle Wolf delivered what might be one of the strongest White House Correspondents' Dinner roasts of the least few years — and she has the tweets to prove it. Reactions to Michelle's Wolf's White House Correspondents' Dinner roast show Twitter was freaking the heck out, because Wolf was a fearless, incredible, no-shame bad*ss, to put it simply.
Wolf, a contributor and writer for The Daily Show with Trevor Noah, literally didn't hold back any punches during her roast on Saturday night. A few choice zingers included:
"We should definitely talk about the women in the Trump administration. There's Kellyanne Conway. Man, she has the perfect last name for what she does. Conway? It's like if my name was Michelle Jokes Frizzy Hair Small Tits. You guys gotta stop putting Kellyanne on your shows. All she does is lie. If you don't give her a platform she has nowhere to lie. It's like that old saying, 'If a tree falls in the woods, how do we get Kellyanne under that tree?' I'm not suggesting she gets hurt, just stuck."
"And then there's Ivanka, she was supposed to be helpful to women. But it turns out she's about as helpful to women as an empty box of tampons."
"Ivanka Trump has done nothing to satisfy women. So, like father, like daughter."
Oh, yeah, it was intense. At times there were few laughs from the press, because Wolf was *that* relentless, but Twitter was here for Wolf's courage to go where few Correspondents' Dinner roasters have gone before. I mean, this is the joke she started her roast off with: "Like a porn star says when she's about to have sex with a Trump, 'Let's get this over with.'"
Yep, put your big girl pants on, because it only got more real from there. Here's a clip of Wolf's roast of White House Press Secretary Sarah Huckabee Sanders:
Twitter was in awe and shock:
I mean, "Maybe she's born with it, maybe it's lies." Wow. This was Sanders' face after that moment, in case you were wondering:
People were here for it.
And then, AND THEN, she fired off a number of "Trump is so broke," jokes, in which the crowd would ask her "How broke?"
And then this happened:
Wolf: "Trump is so broke..."
Crowd: "How broke?"
Wolf: "...he grabs p*ssies because there might be change in them."
*Fire emoji times three*
Here's all of Wolf's incredible roast:
But the general consensus was that she killed it. Despite the fact that there were a few pearl-clutching moments from the crowd, people seemed to agree that she called out the White House and the press — and she did it fearlessly.
A number of people also pointed out how hypocritical it is to criticize the lewd moments in Wolf's speech, but to be totally OK with Trump's "grab her by the p*ssy" Access Hollywood tape, or any of the things Trump has said at his rallies.
The great thing about Wolf's roast wasn't just that it was relentless, but she also clearly takes what's going on in the White House very seriously. Her roast was an effort to make people laugh, yes, but it was also yet another Correspondents' Dinner where the comedian called out the press, because it is the job of the press to report on and check the government to prevent and stop rights abuses, for example, from happening. Wolf is a talented comedian, but she's also an informed citizen, and the end of her roast made that clear:
All right, like an immigrant who was brought here by his parents and didn't do anything wrong, I gotta get the f*ck outta here. Good night. Flint still doesn't have clean water.
The Correspondents' Dinner roast is meant to be funny, yes, but Wolf reminded people that what's happening in the White House is having real repercussions for people across the country. Flint, Michigan is still without water, DREAMers are being deported, their families spilt apart. We can laugh to prevent ourselves from crying, but that won't affect change.