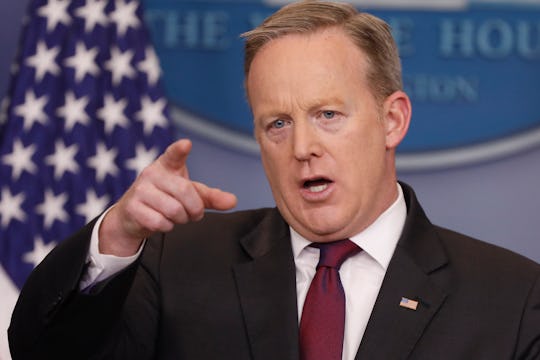 Aaron P. Bernstein/Getty Images News/Getty Images
News Outlets Barred From Press Briefing
Escalating its one-sided war with the media on Friday, the White House reportedly prohibited journalists from outlets including The New York Times and CNN from attending a daily scheduled press briefing. Others went as far as to boycott the event in protest, but online reactions to news outlets being barred from a press briefing really underscore why this is a dangerous, concerning move. Coming from an administration headed up by Trump — who recently tweeted that "The FAKE NEWS media ... is the enemy of the American People!" — this disturbing move is just another bid to delegitimize a press that reports relentlessly on Trump, as it does on all presidents, political candidates, and public office holders.
"I want you all to know that we are fighting the fake news," Trump said during a speech at the Conservative Political Action Conference Thursday morning, ABC News reported, employing a term he regularly uses to describe any unflattering or otherwise negative media reports, regardless of actual veracity. "It's fake, phony, fake."
Just hours later, reporters from the several prominent news outlets were turned away from an informal, off-camera briefing with Press Secretary Sean Spicer. Among the rejected were The New York Times, The Hill, Politico, BuzzFeed, the Daily Mail, BBC, CNN, The Los Angeles Times and the New York Daily News, and RealClearPolitics. Time and the Associated Press opted not to attend as a result.
According to The Hill, White House spokeswoman Stephanie Grisham insisted afterwards that "claims that outlets were excluded are not factual," and that "various media mediums were represented." But the outlet also reported that she had instructed Secret Service members to tell reporters outraged by being excluded to vacate the hallway outside Spicer's office. Spicer had canceled the regular televised press briefing in favor of the smaller "gaggle" in his office. There, he permitted conservative outlets Breitbart News, The Washington Times, and One America News Network to attend. Major news organizations like ABC, CBS, NBC, Fox, Reuters, Bloomberg, and McClatchy also made the cut.
In a tweet soon after, CNN blasted the move as "unacceptable." "Apparently this is how they retaliate when you report facts they don't like," the outlet wrote. And New York Times executive editor Dean Baquet similarly condemned the White House's decision:
Nothing like this has ever happened at the White House in our long history of covering multiple administrations of different parties. We strongly protest the exclusion of The New York Times and the other news organizations. Free media access to a transparent government is obviously of crucial national interest.
And they had plenty of support from Twitter users:
Some considered how Republicans would have reacted to the news if President Obama had barred right-leaning news outlets from a briefing:
Critics have long denounced Trump's well-established hostility toward the press as a serious assault on the First Amendment. Retired admiral and current chancellor of the University of Texas system William McRaven called out the problem in a recent speech, according to USA Today. "The president said the news media is the enemy of the American people," he said. "This sentiment may be the greatest threat to democracy in my lifetime."
In fact, Spicer himself recently said in a recent interview that he did not support banning news organizations from covering the government, as Politico's Kenneth P. Vogel pointed out on Twitter Friday. "Conservative, liberal, or otherwise, that's what makes a democracy a democracy versus a dictatorship," he said in the video clip Vogel posted.
Ouch.
Supports of press freedom quickly aligned themselves with that Spicer sentiment, not his contradictory actions Friday:
This is far from the Trump Administration's first attack on the press, and it will certainly not be the last. Americans must remember that this is not normal, acceptable, or tolerable no matter not incrementally the Trump White House pushes us to accept the outrageous.