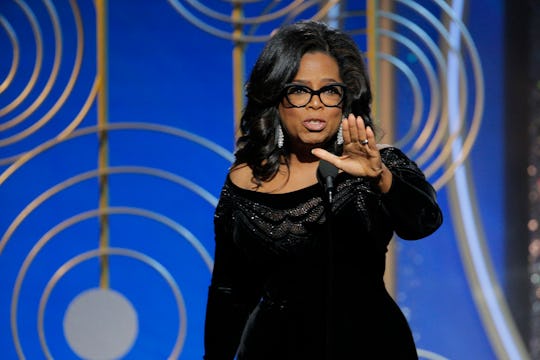 Handout/Getty Images Entertainment/Getty Images
These Reactions To Oprah's Golden Globes Speech Are All Of Us
Upon accepting the Cecil B. DeMille Award at the 2018 Golden Globes, Oprah Winfrey gave a speech that was incredibly powerful. And the reactions to Oprah's Golden Globes speech on Twitter prove that it resonated with everyone watching at home. Her speech was one of the best moments of the night, and it is definitely one to be remembered. As the years go by, people will still be talking about how Oprah brought the house down at the 2018 Golden Globes.
She began by explaining what a huge impact it had on her to see Sidney Poitier accept an Oscar on television over 30 years ago, and how she knew there would be girls watching who were similarly affected by the fact that she was the first black woman to receive this particular achievement. Upon mentioning those many unnamed girls, Oprah said that it was "an honor and it is a privilege to share the evening with all of them."
She also took time to honor Recy Taylor, who recently passed. Taylor's name was one everyone needed to be reminded of, Oprah said; she was a black woman who was raped by six white men in Alabama in 1944 and never saw justice for what happened to her. Oprah continued to discuss how many women suffered abuse in silence and she promised young women that there was a new age dawning, where they would be heard and be believed. And her conviction made it seem possible. She got a standing ovation, and viewers were cheering at home too.
Some Twitter users expressed their admiration with a brief message that captured how overwhelmed with emotion they were. Others simply let a gif sum up the intense feelings Oprah's words stirred up in them. It was clear that she had left Twitter reeling not only from her message, but how she delivered it.
It's no surprise at all that Oprah knows how to give a speech (she's had a lot of practice with public speaking after making a lifelong career out of it), but her eloquence and poise remain unmatched. Some fans were so impressed that they wanted an immediate download so that they could be uplifted by what she had to say any time, day or night. In fact, if viewers had their way, they'd be watching Oprah's speech on a loop, too.
There were even fans who felt that there was just no following Oprah. If they couldn't listen to her speech again or give it another watch immediately, then they were ready to turn in for the night. She's a hard act to follow on most occasions, let alone when she's just caused a crescendo of applause.
During his opening monologue, host Seth Meyers shared that some believed that his past jokes about Donald Trump may have led to the businessman's decision to run for president. He then turned to Oprah and firmly informed her that she would never be president in the hopes that the opposite would actually come true. And Twitter users were absolutely on board with that, especially after her speech.
Still others took the time to craft heartfelt messages about the impact Oprah had already had on their lives, and how she continued to inspire. She proved that it was possible to work hard and accomplish your dreams, to set huge goals and actually acquire them.
The fact that Oprah took time to stand up for survivors of sexual assault also hit home for those listening. She is an amazing example of how to use one's voice and position to speak up for the issues that are most important.
Oprah has been an influential figure in the cultural landscape for decades, and her speech at the 2018 Golden Globes made it clear why.
Check out Romper's new video series, Romper's Doula Diaries:
Watch full episodes of Romper's Doula Diaries on Facebook Watch.