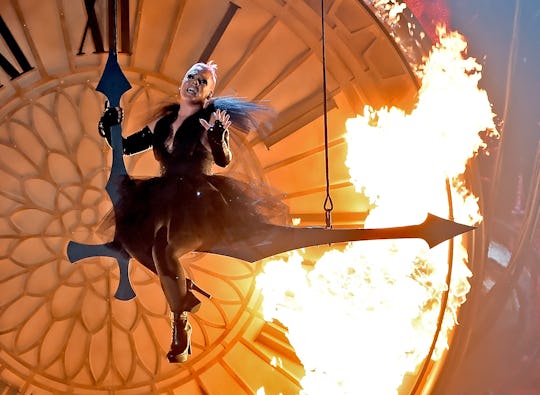 Kevin Winter/Getty
Reactions To Pink's Billboard Music Awards Performance Sum Up How Impressive She Is
P!nk will forever be one of my favorite artists. She's not only a badass who has an amazing voice and sings about important topics, but she's also an aerialist who likes to spin dangerously over her audience while performing. Reactions to Pink's Billboard Music Awards' performance showed that the rest of the world was just as impressed with her as I was at the awards show.
For the performance, P!nk performed "Just Like Fire," her song from the upcoming Disney film Through the Looking Glass. She stayed true to the Alice in Wonderland theme, with madly spinning clocks and dancers in bright red outfits in the background. To begin, of course, P!nk happily looped her arms through a giant, golden rope, and swung and swayed over the audience in typical fashion. (That's right, she did so with no safety harnesses to keep her hooked there, keeping the audience on their toes).
"Just Like Fire" made it to No. 38 on the Billboard Pop Songs chart after less than a week on the radio. Fans were clearly feeling the new song, but they also expressed surprise — and delight — at P!nk's entire performance. Especially the bit where she risked her life for the aerial portion of it.
It seems like 140 characters weren't enough for fans to show their excitement.
A few people, of course, pretended they were not impressed by P!nk's acrobatics and Cirque du Soleil-ish talents, since she's done them before, but hey, I'd like to see any other artist sing that beautifully while owning the stage (and air) that majestically.
P!nk legitimately always kills it, and tonight was no exception with her performance of "Just Like Fire." She kept it literal and figurative, and gave her fans plenty of use for that popular fire emoji. Can P!nk go on tour again yet, please? Or get a permanent Vegas show like Spears? I'd go visit — especially if she worked in some kind of Cirque collaboration now and again.