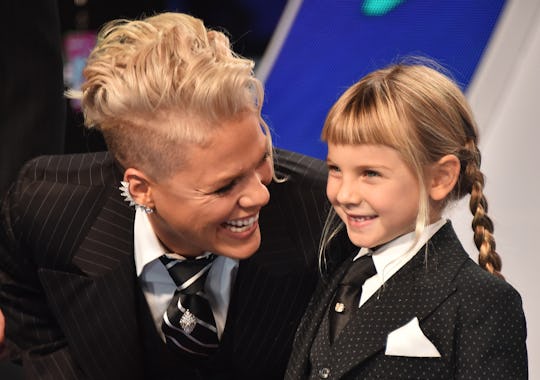 Frazer Harrison/Getty Images Entertainment/Getty Images
Pink's VMA Speech Basically Had The Entire Internet Screaming "YAAS, QUEEN!"
Pop singer Pink received the 2017 Michael Jackson Video Vanguard Award at the MTV Video Music Awards on Sunday night, and after her scheduled performance, she took the opportunity to address the audience and share a story about her young daughter, Willow. Reactions to Pink's VMA speech were full of heartfelt gratitude, and it just goes to show that the world needs more moms like her.
On the way to school recently, Pink said, Willow announced, ""Mama, I'm the ugliest girl I know." When questioned, Willow explained that she thought she looked "like a boy with long hair." In response, the singer literally created a PowerPoint presentation of "androgynous rock stars and artists that live their truth," such as Michael Jackson, David Bowie, Annie Lennox, Prince, and many more. So many, in fact, that Pink said Willow's eyes glazed over.
To be fair, whose eyes don't glaze over during a PowerPoint presentation? Then Pink used an example Willow could relate to: her own mom. Pink told her daughter she's also been criticized for appearing "too masculine."
"I said, 'Do you see me growing my hair?' She said, 'No, mama.' I said, 'Do you see me changing my body?' 'No, mama.' 'Do you see me changing the way I present myself to the world?' 'No, mama.' 'Do you see me selling out arenas all over the world?' 'Yes, mama.'"
Now that's a role model.
Pink's lesson: "We don't change. We take the gravel in the shell and make a pearl, and we help other people to change so they can see more kinds of beauty."
"And to all the artists here," she continued, " I am so inspired by you. Thank you for being your true selves and lighting the way for us."
Finally, Pink addressed Willow directly as she watched from the audience: "You, my darling girl, are beautiful, and I love you."
Of course there were also those fans who zeroed in on what an amazing mom Pink is. Seriously, this woman deserves all the props in the world not only for being a truly amazing role model for her own children, but for standing up and paving the path of empowerment and acceptance for all our children.
Mom of the year? Yep, sounds about right. It's hard to imagine a more fierce and loving mom than Pink. And it's really hard to imagine a more amazing, show-stealing performer. All hail the Queen of the VMAs!