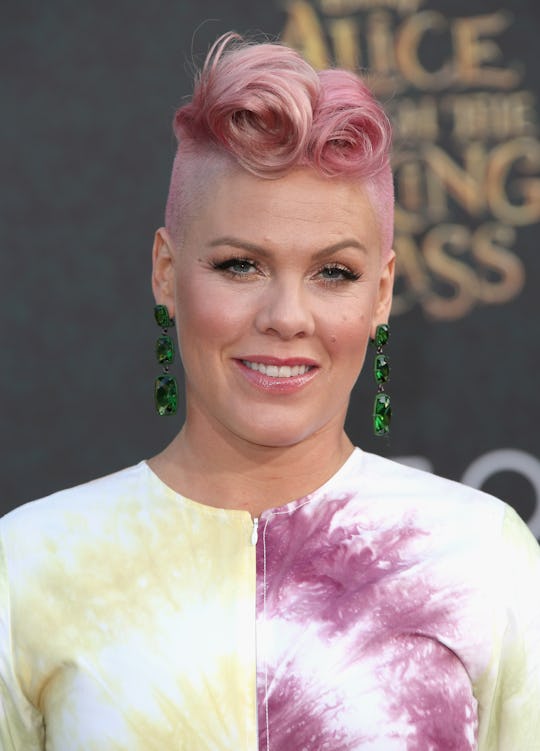 Frederick M. Brown/Getty Images Entertainment/Getty Images
Reactions To Pink's Video Vanguard Performance Prove She's A Total Icon
Pink's music is essential to any party playlist and any early 2000s soundtrack. I mean, who doesn't love jamming out to "Get This Party Started" or "Lady Marmalade" whenever it comes on? Whether she's your favorite artist or not, you have to admit that Pink has had one hell of a career — and during this year's MTV Video Music Awards, she finally got recognized for it, receiving the Video Vanguard Award. Fans seem to agree, because the reactions to Pink's Video Vanguard performance at the VMAs prove that it is about time that the singer is recognized for her hard work.
That performance proved why Pink (real name Alecia Moore) is more than just a one-hit-wonder from the early aughts and showed exactly why she continues to sell records and entertain fans with her music. During her performance, the hardworking mother of two performed songs from her expansive career and showed off her attitude with amazing sets and dance moves that proved she must be one of the most hardworking women in Hollywood.
Fans took to Twitter to share their excitement over the performance. Their reactions to her performing her songs were, needless to say, the best thing ever. People were so, so, so happy to see Pink take the stage.
Pink's performance highlighted just how inspiring and empowering her songs are. They carry a message of independence for young girls and women everywhere — a message that they can have fun on their own and at the end of the day, they will be alright. But not only is she known for the songs she's released over the years, she is also known for her amazing live performances involving the most impressive acrobatics you've ever seen. Her performance at this year's VMAs showcased that.
By accepting the Video Vanguard award, according to Footwear News, Pink joins the likes of The Beatles, Madonna, and Beyoncé, who also received it. Not a bad club to be a part of. And as previously stated, Pink deserves to be there with them. According to Billboard, Pink has been the recipient of three Grammys, two Billboard Music Awards, and six MTV VMAs over the course of her 17-year career. And there is surely still many more to come because Pink just released the first single from her seventh album, Beautiful Trauma, which is coming out soon.
Pink's performance proved why she is a staple on so many playlists and why she will be a staple for years to come.