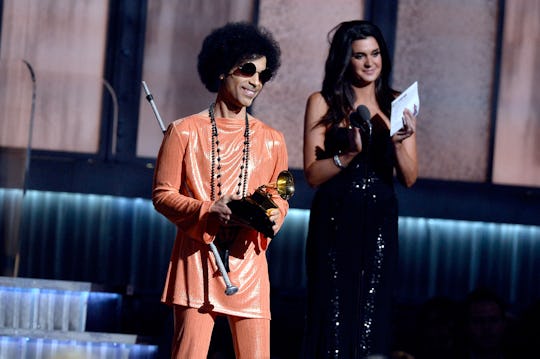 Kevork Djansezian/Getty Images Entertainment/Getty Images
Reactions To Prince's Reported Drug Overdose Run The Gamut From Shock To Anger
According to the Associated Press, officials have confirmed Prince's cause of death as an opioid overdose. The 57-year-old superstar was found dead in an elevator in his home outside of Minneapolis, Minnesota, on April 21. Since his death, fans have organized vigils, parties, monuments, and many artists have paid him tribute, but there was still a lot of mystery surrounding that tragic day. So, what are fans' reactions to Prince's drug overdose? To many, it comes as a surprise.
The Independent reported that many sources close to the musician said that he had been addicted to painkillers for some time. Prince even had an appointment scheduled with an addiction specialist named Howard Kornfeld on April 22. Allegedly, Kornfeld was not able to make an appointment sooner, but sent his son, Andrew Kornfeld, to check on Prince at his home. According to Mirror Online, it was Andrew Kornfeld who called 911 after Prince was found slumped in his elevator.
It is not yet known how long Prince had been suffering from addiction, but five days before his death, his private jet made an unscheduled landing due to a medical emergency. Given Prince's death shortly thereafter, it's likely that visit to the hospital was due to opioid complications or withdrawal, though, at the time, it was reportedly because of Prince's flu-like symptoms.
Since his cause of death has been confirmed, law enforcement officials have begun investigating where the drugs came from. The Drug Enforcement Administration has been working in conjunction with the local sheriff's department on searching the property and tracking possible suppliers. Dr. Michael Todd Schulenberg is under investigation after detectives discovered he had seen and treated Prince on April 7 and April 20, just before his death. According to the Los Angeles Times, who obtained the police affidavit, Dr. Schulenberg prescribed Prince drugs on both days. Prince had reportedly been regularly taking Percocet, which can be highly addictive, for chronic hip pain.
But narrowing his cause of death down to "opioids" still leaves many questions unanswered for investigators and for fans. What drug or drugs led to his death? How long had he been suffering from addiction? Many took to Twitter to express their disbelief that the pop icon had been hiding his addiction so well.
Others had the opposite reaction and expressed that they were not surprised at all by the news of his overdose.
Others were shocked that the investigation was still ongoing, given the time that has passed since Prince's death.
Others still expressed anger at the new information, claiming that Prince was not deserving of tribute.
Given Prince's influence on music and culture, it's no wonder that reactions to his death have been so resounding and so varied. Hopefully, as the investigation continues, his death sheds light on the rampant opioid epidemic that is taking thousands of lives every year, most of which go unreported.