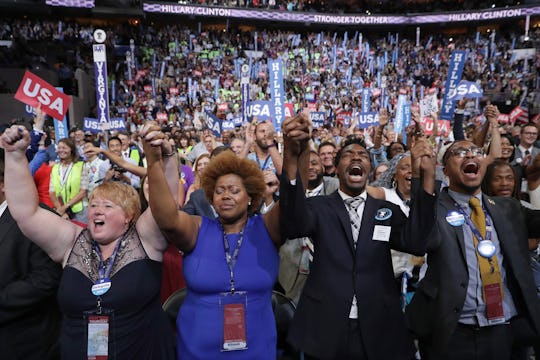 Chip Somodevilla/Getty Images News/Getty Images
Reactions To Reverend Dr. William Barber II's DNC Speech Were On Fire
The Democratic National Convention had seen some pretty rousing and impressive speeches so far. But on the final night of the convention, Democrats went crazy over Reverend Dr. William Barber II's DNC speech. Viewers at home and those in the Philadelphia arena got the perfect jolt of excitement just before Hillary Clinton takes stage to formally accept her party's nomination for the President of the United States.
"We must shock this nation and fight for justice for all," Barber powerfully said during his speech on Thursday night. "We can't give up on the heart of our Democracy. Not now. Not ever."
The 52-year-old Protestant minister and political leader hails from North Carolina and is a father to five children. Barber introduced himself to the crowds on the fourth and final night of the Democratic convention, saying that he didn't come there representing any specific organization, but described himself as a "preacher and theologically conservative liberal evangelical biblicist."
His riveting speech not only touched on, but rather declared action to be taken on the plaguing issues facing the nation now, such as gun violence, the climate, and a lack of unity between law enforcement and minority communities. It simply left viewers in awe, shock, or raising their hands in praise. These tweets prove the reverend's speech was on fire and everyone felt it.
"We are being called, like our mothers and fathers, to be the moral defibrillators of our time," he said as the DNC audience roared in agreement. "We will shock this nation and fight for justice for all."
If you didn't have a chance to see Barber's speech or are feeling just a little unmotivated, take 10 minutes and watch it. It'll definitely do the trick.
Barber is a pastor at the Greenleaf Christian Church in Goldsboro, North Carolina, as well as the president of the state chapter of the National Association for the Advancement of Colored People (NAACP). He's also an author of a book entitle Preaching Through Unexpected Pain and often writes a column for The Nation.
"Whether it's Donald Trump or Hillary Clinton, only a moral movement bound by fusion politics can hold the next president accountable to the people," Barber wrote in a recent article for The Nation.
Crowds went crazy after Barber delivered an impassioned and soaring speech on Thursday night, giving Democrats the perfect pick-me-up after a long convention week, but left voters with an important issue to address when they make their decision this election.
"I say to you tonight that some issues are not left versus right or liberal versus conservative," he said. "They are right versus wrong."