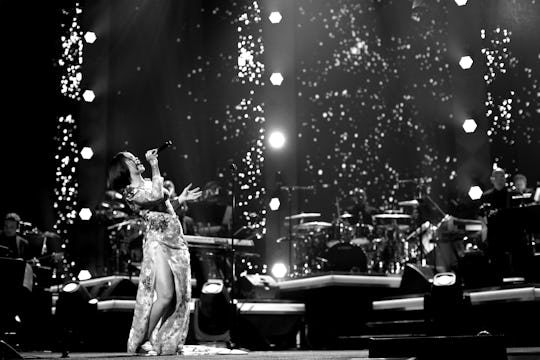 Christopher Polk/Getty Images for NARAS
Reactions To Rihanna Canceling Her Grammys Performance Are Full Of Disappointment
After dropping Anti and "Work" and whetting our collective whistle for a year of genius music, Rihanna canceled her Grammys performance at the last second. TMZ broke the news, citing RiRi's recent bout with bronchitis as the reason she was unable to take the stage on Feb. 15. According to an insider, sources in production told TMZ that "Rihanna has been struggling with bronchitis and is on meds. We're told a doctor on site recommended that she pull the plug on the performance because it could permanently damage her vocal cords." Romper reached out to CBS for comment on Rihanna's failed performance and a rep for Rihanna said:
Based on Rihanna's examination, after Grammy rehearsal today, Rihanna's doctor put her on vocal rest for 48-hours because she was at risk of hemorrhaging her vocal chords. The antibiotics she has been on for 3-days did not kill the infection adequately therefore she cannot perform safely.
Obviously the singer's personal health and safety come first and foremost, but I'd be lying if I said I wasn't even the least bit disappointed that Rihanna wouldn't be taking the stage at some point during the night to perform a few songs off her latest CD. Naturally, I wasn't alone. Twitter was flooded with feelings they were more than willing to share:
OK, I Guess This Makes Sense?
People Weren't Sure What To Believe
The Disappointed
It's clear everyone was sad to have missed RiRi at the 58 Annual Grammys, but I think we can all agree that your health comes first and foremost. Here's hoping she feels better soon.