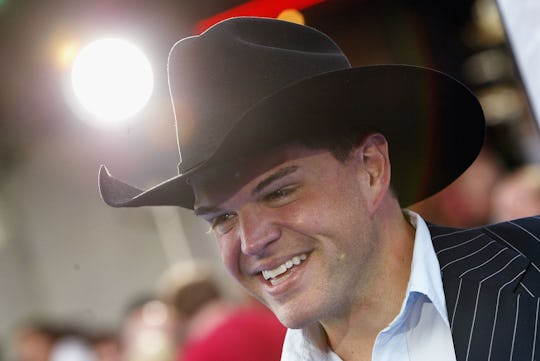 Mark Mainz/Getty Images Entertainment/Getty Images
Reactions To Ron Lester's Death Prove He'll Always Be A 10 With Fans
It's a sad day for '90s tweens and teens, who woke up Saturday morning to learn that Ron Lester had died late in the evening on June 17, 2016. The actor, who was most known for his role as Billy Bob in the 1999 football drama Varsity Blues, died at the age of 45 due to liver and kidney failure. And though he wasn't a household name like some of his co-stars, the reactions to Ron Lester's death show that he was an icon among '90s babies.
Lester, who also held starring roles in Not Another Teen Movie and the WB series Popular, had been suffering liver and kidney issues for quite some time. But there was hope for a recovery. In November 2015, Lester tweeted that his liver and kidney were staring to heal after he "came close to dying." Sadly the road to recovery didn't last long. According to Entertainment Weekly, Lester had been hospitalized for four months before being moved to hospice care on Friday, June 17.
In a statement posted to Facebook, Lester's agent Dave Bradley said that the actor "was not in any pain and passed away peacefully." Bradley also noted that Lester was surrounded by friends and family, including his fiancée Jennifer Worland.
After appearing in numerous commercials, the Georgia native made his acting debut starring opposite Keenan Thompson and Kel Mitchell in the 1997 cult classic Good Burger. But his big break would come two years later when he was cast in Varsity Blues as as Billy Bob, the comedic heavyset offensive lineman who always wound up getting a concussion. Lester continue playing similar roles in television shows like Popular and Freaks and Geeks, and even parodied his famous role in Not Another Teen Movie. But the actors career took a turn when he decided to undergo gastric bypass surgery in 2000. After losing more than 400 pounds from the procedure and post-surgery methods, Lester told Grantland that he could no longer play the "funny fat man" that made him a star.
"Am I alive? Yes. Am I happy? No," he told the publication in 2014, when he was struggling to get a movie made. "Did I throw away my career to be skinny? Yes. I wouldn't do [the surgery] again. I would much rather have died happy, rich, and kept my status and gone out on top."
But regardless of his fading fame, Lester did go out on top. The social media reactions on Saturday morning prove that he was an icon to a great group of fans, despite his rather short resume.
It is clear that Lester left his mark on Hollywood and a myriad of millennials who see him as "a f*cking ten."