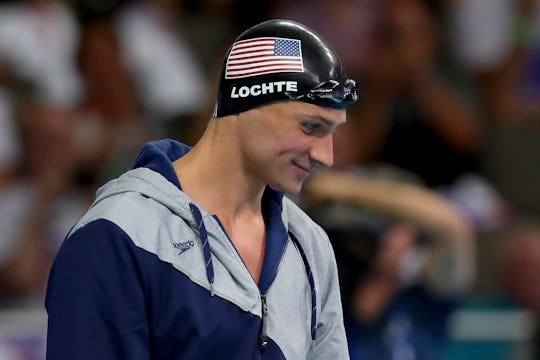 Tom Pennington/Getty Images Sport/Getty Images
Reactions To Ryan Lochte's Blue Hair Are Worthy Of Olympic Medals
Ryan Lochte is undoubtably (in my opinion) one of the most attractive men to compete for the United States in the 2016 Olympics. His body is amazing and his face is pretty cute, too — but don't expect to see the same 'ole Ryan Lochte at the 2016 Olympics in Rio that fans grew to love in 2010 and 2012. Once Lochte takes off that swim cap in the next few weeks, fans will be surprised to find that Lochte's hair is blue. And the reactions to Ryan Lochte's blue hair should be awarded gold medals for how witty they are.
No one (except Ryan Lochte) will know what inspired Lochte to dye his hair blue. Maybe Lochte wanted to change up his look a little bit. Maybe he felt so at home in the aqua colored waters of a swimming pool that he wanted his hair to resemble the same. Or maybe, Lochte wanted to bring more attention to himself than he has already in this Olympic season (but when is he not talked about). Whatever the case may be, Lochte took to his Twitter to announce that a change was on the way and then revealed the final look on his Instagram account.
The reactions that followed those Instagram posts are hilarious (and some are definitely NSFW).
The consensus about the color of Lochte's hair still seems to be up in the air. Lochte himself called it "#lightblue" when the new hairdo made its debut and the color does look a little blue once it is contrasted with Lochte's black shirt and black background. But, a lot of people think that his hair is gray, making comparison between Lochte and Anderson Cooper and even calling Lochte a "silver fox."
Then there are others who think that Ryan Lochte looks like a member of a boyband, which I can definitely see. His stance and smolder in the photo gives him major "I'm a bad boy in a boy band" vibes. Too bad Lochte's talent lies in winning gold medals for swimming and not singing about lost love.
While Lochte's motives for dyeing his hair might be unknown, the change looks pretty nice. And while "Best Hair" is not an event that swimmers can compete and win medals in, the new change might give Lochte a needed confidence boost to secure some more gold.
Even though Lochte's hair will be secured under a swim cap for the majority of the Olympics, it is clear that Twitter users will be there for some Olympic worthy reactions when Lochte does show more of his new look. Hopefully sporting this permanent silver-blue hue will mean Lochte will win more gold medals than silver ones.