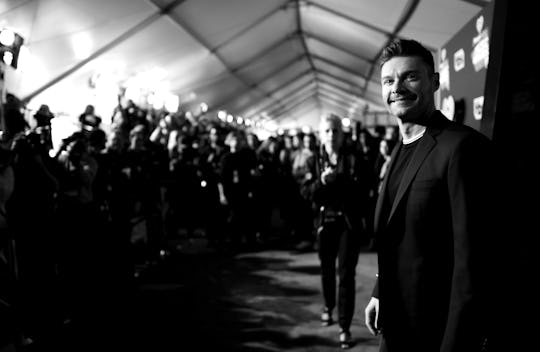 Charley Gallay/Getty Images Entertainment/Getty Images
How Can Ryan Seacrest Do Yet Another Job??
After undertaking a nearly year-long search that resulted in several guest co-stars, Kelly Ripa announced her pick for a co-host on her daytime talk show Monday morning. Ripa took to social media to share which familiar face she chose. Reactions to Ryan Seacrest joining Kelly Ripa on LIVE with Kelly are mixed, and many fans are wondering how Seacrest could possibly have time for yet another gig.
Ripa's solo stint as host of the show came more than a decade after it made her a household name, back when she co-hosted with Regis Philbin. Live With Regis and Kelly was one of the most award-winning incarnations of the daytime entertainment talk show, which began as The Morning Show back in the 1980s. Regis left the show back in 2011, and it was then handed off to Ripa. Ripa had taken the place of Regis' previous co-host, Kathie Lee Gifford. Former football star Michael Strahan served briefly as Ripa's co-host before leaving her show for Good Morning America last year. Ripa has lived and worked in New York City for nearly two decades, but her new co-host has been largely based in L.A. and may be relocating to take on the new role, according to Variety.
Seacrest, a familiar face and voice in the entertainment news world, is host of a number of programs across multiple mediums, including internet and FM radio. He's probably most well-known as the host of American Idol, and is frequently seen on the Red Carpet at award shows with E! News. When Ripa made the announcement Monday morning, many initial reactions on social media from fans were just people wondering how Seacrest could possibly have time for another gig.
A decade ago, The New York Times ran a profile of Seacrest that painted him as something of an everyman; not only as a host, but an entrepreneur and businessman. When asked about why he had such a jam-packed schedule (and life), Seacrest admitted that he was at least a little afraid of becoming irrelevant:
I'm frightened by the thought of being out of work ... Growing up, there were people on shows like 'Diff'rent Strokes,' 'Facts of Life,' 'Love Boat' that you thought would be huge stars for the rest of their lives, and they've just vanished. You never want to be that person.
Seacrest's tenure with Ripa began Monday morning when she announced to her audience — both in studio and at home — that she'd finally selected her new co-host. After joining her on the set, Seacrest tweeted his admiration for Ripa, who "crushes every morning," and is "one of my favorite people ever."