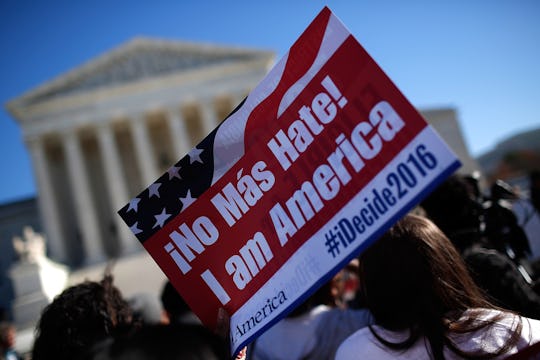 Win McNamee/Getty Images News/Getty Images
Reactions To SCOTUS' Immigration Decision Reveal A Nation Deeply Divided
On Thursday morning, the Supreme Court announced that it had deadlocked in a ruling over President Obama's Deferred Action for Parents of Americans and Lawful Permanent Residents immigration plan, which would have allowed the undocumented parents of citizens and legal residents an opportunity to apply for deportation deferral and work permits. The tie upholds a lower court's ruling that blocks the executive action, and reactions to SCOTUS' immigration decision show that immigration reform is yet another issue on which the country can't seem to come to an agreement.
Nowhere is the divide more deeply felt than in Congress, where representatives refuse to compromise, leading to filibusters, sit-ins, an empty seat on the Supreme Court bench, and seemingly no progress of any kind. Exasperated citizens took to social media to vent their frustration over representatives who can't seem to find any middle ground. While some call the president's actions an overreach, others argue that Congress left him with little choice after years of fruitless debate failed to lead to immigration reform legislation, even though both Democratic and Republican lawmakers agree that it's long overdue. The Miami Herald reported that Florida Republican Reps. Mario Diaz-Balart, Ileana Ros-Lehtinen, and Carlos Curbelo issued a joint statement saying that they are "committed to fixing our broken immigration system once and for all." Just not Obama's way, presumably. Many are disappointed with Congress' failure to get along:
Others are focusing on the immediate effects of the ruling:
And still others are celebrating xenophobia:
How very gross. I can think of a couple of ways out of our current situation. The first would be to have another civil war in which the United States un-unite, becoming the Democratic States of America and the Republic of America, though I'm not exactly sure how that would work, what with the blue states lying mainly on the coasts. Maybe a giant bridge from Oregon to New York, with Democrats leasing air rights from Republicans? Nah, that seems costly.
The other option, and I know this is maybe even crazier, would be for everyone to try to get along. Maybe back away from Twitter, stop frothing at the mouth and typing exclusively in all caps, and get to know one another? Listen to our neighbor's concerns, calmly and rationally state our positions, and come to some compromises? Of course that sounds far-fetched for your average citizen, but there are actually 500-odd Americans whose job requirements are just that. It's sort of, you know, exactly what Americans elected them to do. Maybe if one Democrat and one Republican could agree to go out for a drink tonight (or a salad, no judgement) without getting at each other's throats, they could get the ball rolling. Or maybe I'm just deluded.