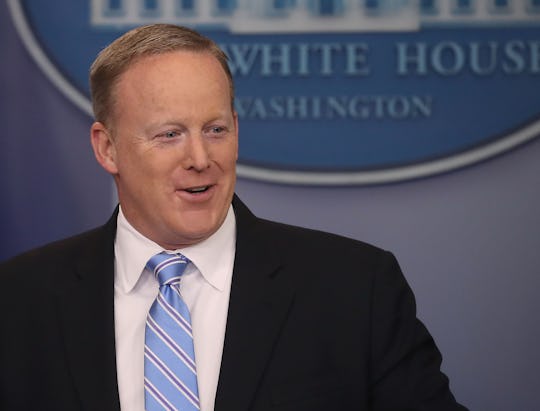 Mark Wilson/Getty Images News/Getty Images
Reactions To Sean Spicer Resigning Were Swift
On Friday morning, Sean Spicer — the White House's well-known press secretary — resigned from his position, after reportedly telling President Donald Trump that he disagreed with his decision to appoint New York financier Anthony Scaramucci as the new White House communications director. The news spread quickly, and reactions to Sean Spicer resigning were swift. And no, people on social media absolutely did not hold back.
According to ABC News, sources claimed that Trump did not ask for Spicer's resignation, and that the resignation was a decision made solely by Spicer. The White House had been operating without a communications director ever since Mike Dubke stepped down from the role in late May. According to The Guardian, Spicer had absorbed many of the job's responsibilities since then, and was reportedly not pleased by Trump's recent decision to hire on Scaramucci, a decision that has yet to be confirmed by Trump or the White House. Romper reached out to the White House regarding Spicer's resignation, but did not hear back immediately.
Spicer's decision to leave his role at the White House does not come as a huge surprise after the last few weeks. The press secretary was often absent from the White House press room in recent days, and his off-camera briefing on Monday was the first time he had spoken to the press in three weeks, according to ABC News.
Regardless of what led to Spicer's resignation, the internet was very ready to comment on his choice to leave. On Twitter, people reacted quickly with everything from Melissa McCarthy impersonations to Mean Girls GIFs — and yes, it was glorious. Take a look at some of the best below:
During his six short months at the White House, Spicer repeatedly came under fire for his interactions with reporters. During his first press briefing, he read a much-debated statement about the size of the crowd at Trump's inauguration, and a few months later, said Hitler had never used chemical weapons.
Before taking on the role of press secretary, Spicer worked as the spokesman of the Republican National Committee. It's unclear what comes next for Spicer, but it sounds like many members of the public are expecting him to take on talk shows and start penning a tell-all book. No matter what he chooses to do, however, you can be certain that people from around the world will be tuning in to see how he approaches life outside the press room.