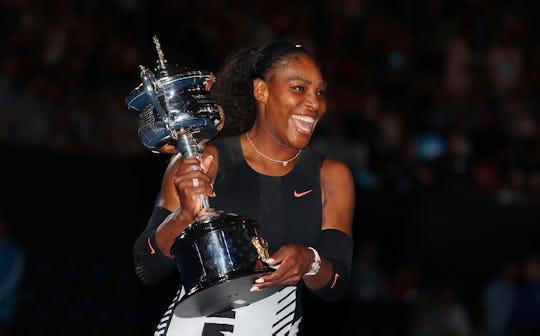 Scott Barbour/Getty Images Sport/Getty Images
Reactions To Serena Williams' Pregnancy Are Awesome
Tennis star Serena Williams definitely has a lot to celebrate these days. In addition to winning a record-breaking 23 Grand Slam titles after the Australian Open in January, Williams also announced her engagement to Reddit co-founder Alexis Ohanian in December, and now, she also appears to be pregnant. On Wednesday, Williams posted — and then promply deleted — a Snapchat photo of herself with the caption "20 weeks," according to Sports Illustrated, and although she hasn't officially confirmed the news, reactions to Serena Williams' pregnancy show that fans are beyond excited.
As far as athletes go, it's hard to find anyone more impressive than Williams. In addition to being the world's highest-paid female athlete, she has consistently been ranked number one in her sport since winning her first Grand Slam title almost two decades ago, according to The New York Times. Her pregnancy is pretty awesome news, but it might actually make her January win even more impressive. That's because, if Williams really is 20 weeks along, she would have actually been pregnant when she won the Australian Open. And given that that means that she still managed to totally dominate despite experiencing the often challenging ups and downs of early pregnancy, it's unsurprising that much of the social media commentary has also focused on the fact that, well, Williams is basically superhuman.
For the most part, the news that Serena Williams is expecting a baby had Twitter users rejoicing, offering their congratulations and best wishes to the tennis star:
Naturally, many also noted that, like Beyoncé, Williams' announcement of her procreation was yet another reason for the world to bow down to her greatness:
And then, of course, there were the people who were totally losing it over the fact that Williams probably won the Australian Open during her first trimester, even though most women (myself included) could barely get up off the damn couch thanks to morning sickness and general pregnancy-induced exhaustion:
Unfortunately though, as always inexplicably seems to be the case with Williams, the haters emerged too, making totally uncalled for remarks about her body. Because apparently even when you are stronger, more skilled, and way more naturally talented than most dudes, you still have to put up with endless commentary about your appearance:
Thankfully plenty of people wasted no time putting those haters in their place:
Chances are though, that Williams can't really be bothered with the opinions of Internet trolls, because she's clearly living her best life on a daily basis. And with the news that she and Ohanian are expecting a child, well, it sounds like things couldn't possibly be going better.
Of course, Williams doesn't even sort of have to prove her awesomeness to the world, but if it was even possible to be even more impressive than she already was, it seems like she has found a way.