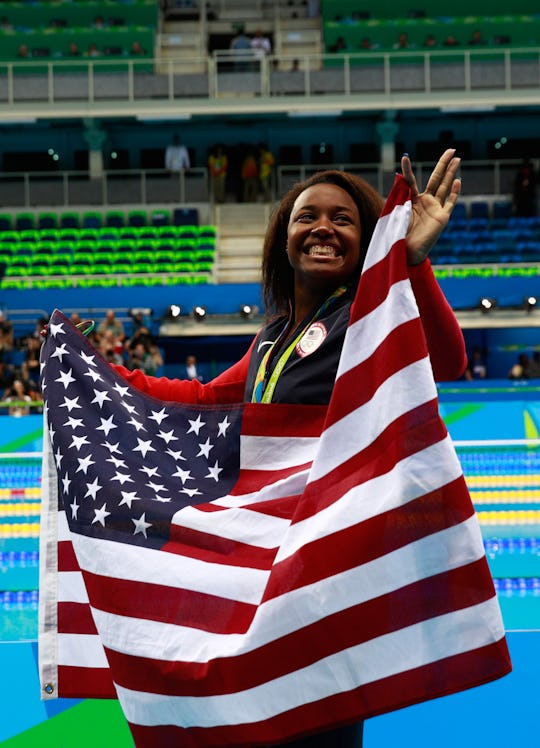 Adam Pretty/Getty Images Sport/Getty Images
Reactions To Simone Manuel's Win Prove Her History-Making Moment Was A Really Big Deal
The Team USA swimmers are totally killing it right now at the 2016 Rio Olympics, and unsurprisingly headlines have been swirling around the amazing performances of some of the big-name athletes, like Michael Phelps and Katie Ledecky. But Thursday night, 20-year-old swimmer Simone Manuel became the first black woman to earn a gold medal in an individual swimming event, after tying for first place with Canada's Penny Oleksiak in the 100-meter freestyle, according to NBC Olympics. And the awe-struck reactions to Simone Manuel's win on social media following the event prove that her incredible, historic gold is something that won't — and shouldn't — be forgotten anytime soon.
After Manuel's win was confirmed, tweets and well-wishes came pouring in, both from her fellow Team USA athletes — who were understandably beyond excited for their teammate — but also from individuals across the country, who just witnessed Olympic history being made. Even Manuel herself was taken aback by the glorious moment, and tears ran down her face while she stood up at the medal podium. Following that incredible moment, Manuel told waiting reporters how much her gold medal win meant to her, not just for her own achievement, but for the achievements of everyone who paved the way, and everyone who will come after:
It's been a long journey and I'm super excited with where it has brought me ... I hope that I can be an inspiration to others, so this medal is for the people who come behind me and get into the sport and hopefully find love and drive to get to this point.
The tweets focused not just on her amazing performance, but also on the incredible significance of the win, and the message it sends to black children everywhere who got to watch Manuel take home gold:
And as many pointed out, Manuel's win wasn't just important because she was the first, or because she's a role model, but also because the history of swimming in America has a long history of being steeped in racism. According to Vox, municipal swimming pools were hotbeds of racial tension and discrimination for years, with some cities opting to shut down pools completely rather than allow whites and blacks to swim in the same pools. And in places where blacks were allowed to swim, white people would often abandon public pools in favor of other options, like country club pools, where they could be assured they'd only be swimming alongside other white people.
In other words, Manuel's win is huge on many levels — for herself and her own accomplishments of course, but also for black female athletes, and for the way her gold medal stands in direct contrast to years of segregation and shaming against black people in general.
Of course, the racial significance of her win is not lost on Manuel. As one of the few black swimmers, she admitted that the focus on her skin color and heritage is something she has "definitely struggled with a lot," according to USA Today — but that it isn't the only thing that defines her. Manuel said,
Coming into the race I tried to take weight of the black community off my shoulders. It's something I carry with me. I want to be an inspiration, but I would like there to be a day when it is not 'Simone the black swimmer.'
There's no doubt that what Manuel achieved Thursday in Rio was a profound accomplishment in so many ways. And it's also clear that today, as she celebrates her win and the hard work and dedication that brought her to it, the entire country is proudly celebrating right along with her — just as they should.