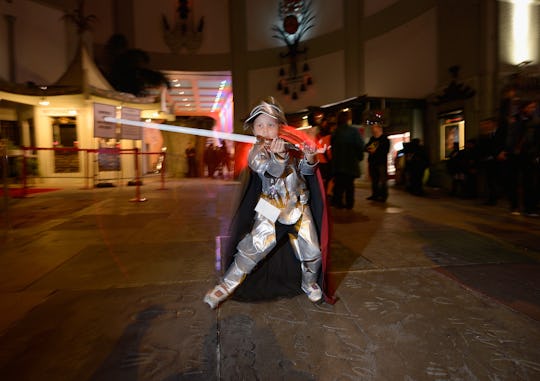 Reactions To 'Star Wars: The Force Awakens' Are Coming In, & People Are So Psyched
After years of intergalactic hope, the day is upon us. Millions of people have bought tickets in advance to see the latest chapter of the epic franchise, born way back in 1977. Star Wars: The Force Awakens opening night has arrived, and fans are psyched AF. From author John Green calling Star Wars a "shared mythology," to the dad who makes his son intricate Star Wars lunches, fans are going nuts for the new Star Wars: The Force Awakens film; and why shouldn't they?
Critics are calling the latest installment on par with the original trilogy. Director J.J. Abrams has captured the feel of the OG Star Wars. And that's got fans stoked. Taking place 30 years after Return of the Jedi in galaxies far, far away, The Evil Empire has been supplanted by an even eviler First Order. The Republic continues to try to take it down, while wondering about the whereabouts of Luke Skywalker, who's gone MIA.
C-3PO, R2-D2, Princess Leia, Chewbacca and Han Solo are rolling deep in this installment. Veteran Harrison Ford has a starring role, along with Daisy Ridley, John Boyega, Adam Driver, Oscar Isaac and even the little droid BB-8. And, it so seems director J.J. Abrams has created a slew of new characters, soon to be immortalized into action figures for little boys and girls to unwrap for Christmas. But, don't worry, no spoiler alerts follow. Only a tribute to the fans who've been anticipating this moment for years.
OG Cast Members
Hey, man, if Luke says it, you got to obey.
Star Wars siblings reunited!
At 73, he's still a stud Solo.
Make no mistake, Carrie Fisher is boss. Who else could bring her dog to a premiere and work it like this?
The Fans React
It's so lit. Like lightsaber lit.
When you score tickets for opening weekend, you're like...
Relationship goals.
This guy might be onto something.
Most Creative Star Wars Fan Art
This Bento is way too gorgeous to eat.
All the Star Wars stars in one intergalactic collage.
No longer relegated to conventions, Star Wars fan art is a click away.
Street Scenes From Premieres Around The World
London.
Los Angeles.
New York.
Here's the trailer to the latest installment:
And a spoiler-free video fan review:
So, now that you've seen what the fans think, go out and get your tix, and be sure to catch the hype for yourself. You've got this; after all, the force is with you.
Images: Kevork Djansezian/Getty Images