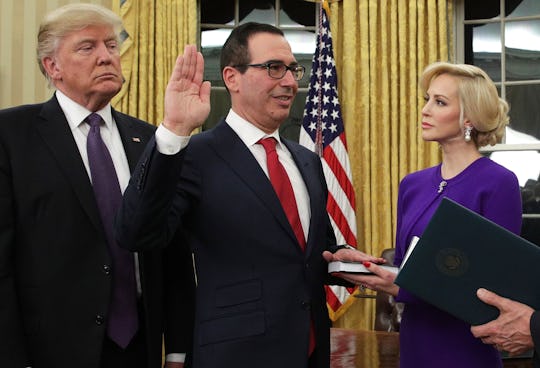 Alex Wong/Getty Images News/Getty Images
Politicians React To Steve Mnuchin's Confirmation
As the Senate moved to approve another one of President Donald Trump's controversial Cabinet picks on Monday, many took to Twitter to share their varied, divided reactions to Steve Mnuchin's Treasury secretary confirmation — and the wave of opinions prove he faces a tough battle, despite his official appointment. The fact that the former Goldman Sachs executive has deep ties to Wall Street did not go unnoticed, especially since the new administration running the White House had reportedly promised to get tough on the seedy finance industry. Still, in a 53-47 vote on Monday, Mnuchin's nomination was confirmed, but it didn't come without plenty of objections from some Democratic senators and many concerned Americans.
With Mnuchin's approval, it seems the administration's penchant for appointing money men to high positions of power continues. And as the position has been taken over by another former Goldman Sachs banker, people on both sides of the aisle are uneasy at best. The 54-year-old investor will now work alongside National Economic Council Director Gary Cohn and two of Trump's top advisors and strategists, Dina Powell and Stephen Bannon.
What makes his confirmation a bit stickier is Mnuchin's investment history. According to NPR, he had invested in at least two real estate projects with Trump and may have lied about his foreign investments — which may be worth $240 million — during his confirmation hearing, as reported by Salon.
Needless to say, Mnuchin's finance background hasn't reassured concerned Americans that he is prepared (or willing) to make choices for the good of the entire nation, instead of the elite and wealthy.
Democratic Sen. Bernie Sanders voiced those concerns on Monday. "Trump's pick of Steve Mnuchin to run the Treasury shows he wants to cater to the same Wall Street executives that hurt working families," he wrote on Twitter.
Sen. Elizabeth Warren, who voted against Mnuchin's confirmation, pointed out that his Goldman Sachs connections might pose a conflict of interest when touch economic decisions need to be made. She tweeted, "If Wall Street threatens to blow up the economy again, does anyone seriously expect Steve Mnuchin to tell his buddies to knock it off?"
Sen. Cortez Masto called out Trump's campaign promise problems in the federal government by taking out ethically problematic figures. "Trump nominated former OneWest Bank CEO, Steve Mnuchin, who before that was a Goldman Sachs executive," she tweeted. "So much for 'draining the swamp.'"
Rep. Barbara Lee pointed out the stark differences between Mnuchin's new public service position and how he did his job on Wall Street. "While millions lost their jobs & homes during the Great Recession, Steve Mnuchin was making a fortune foreclosing on desperate families," she tweeted on Monday.
On a less serious note, one Twitter user did pose a rather comforting, albeit far-fetched, theory:
Mnuchin's credentials have been debated for a long time and it still wasn't enough to convince Republicans and the president that while he's worked closely with a lot money, it doesn't necessarily make him qualified to make the big decisions about international financial, economic, and tax policies that will affect all Americans. Whatever comes next, it's a guarantee that Mnuchin will be watched closely by his critic.